Dom Robinson reviews
Aliens Vs Predator Requiem: Special Edition
In space, no one can hear you scream.
On Earth, it won't matter.
Distributed by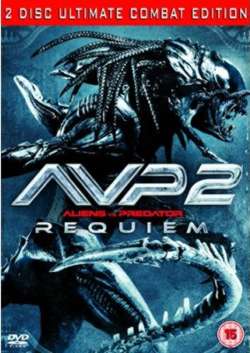 DVD:
Blu-Ray:
Alien & Predator Ultimate Collection:
Cert:
Cat.no: 3821401001
Running time: 93 minutes
Year: 2007
Pressing: 2008
Region(s): 2, PAL
Chapters: 28 plus extras
Sound: Dolby Digital 5.1
Languages: English
Subtitles: English
Widescreen: 2.35:1 (Super 35)
16:9-Enhanced: Yes
Macrovision: Yes
Disc Format: 2*DVD 9
Price: £24.99
Extras:Prepare For War – Production and Design: The Making of AVP Requiem, Fight to the Finish – Post-Production: The Making of AVP Requiem,AVPR: The Nightmare Returns: Creating the Aliens, AVPR: Primitive Design: Creating the Predator,Crossbreed: The Predalien, Building the Predator Homeworld, AVPR: Science of the Xenomorph,AVPR: Science of the Hunter, Stills Galleries.

---

Director:

(Alien Vs Predator: Requiem)
Producers:
John Davis, David Giler and Walter Hill
Screenplay:
Music :
Cast :
Dallas Howard: Steven Pasquale
Kelly O'Brien: Reiko Aylesworth
Sheriff Eddie Morales: John Ortis
Ricky Howard: Johnny Lewis
Molly O'Brien: Ariel Gade
Jesse: Kristen Hager
Tim: Sam Trammell
Col. Stevens: Robert Joy
Dale Collins: David Paetkau
Alien: Tom Woodruff Jr
Predator: Ian Whyte
---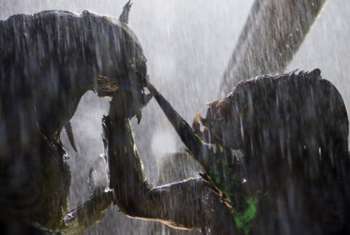 All the Alien films before this one have been great in their own way… even Alien3and I was very impressed withAlien Vs Predator when it came to delivering the entertainmentand packing it with a punch.
So, once again, out comes another sequel to a successful franchise and once again the papers slaughtered it. But, you'renot going to see Wittgenstein, here, you're watching a piece of action/sci-fi fun. And if you want something that deliversthe visuals and the audio, plus the fun and entertainment, all in big fuck-off punches, then you'd think Alien Vs Predator:Requiem would be right up your street!
It is still a lot of fun in many places, but the two main problems are that you know which of the main characterswill survive without too much thought and there's far too much of it in darkly-lit scenes (hence why there's only onepicture – above – I could find to use in this review) so half the time whenthe Predator is trying to slaughter several aliens at once (rather than just the main one as in the previous film),you can barely make out a lot of what's going on, especially as the camera jumps about far too much as well. Youcan see slashing and explosions and hear it all, but… it just doesn't involve you as much this time round.
---
The premise here is that, an alien has just hatched out of the body of a Predator while on board the craft of the latter.However, that makes the new baby a Predalien, which should make for a tougher opponent when a Predator goes out to trackit down and get rid of it. But whereas AvP took place in an alien world, this sequel is set on Earth and for a lot of thetime we have teen kids in peril instead of mercenaries, including Ricky (Johnny Lewis), Jesse (Kristen Hager)and they're led by adults Dallas (Steven Pasquale), Kelly (Reiko Aylesworth – yes, hottie Michelle Dessler from24) and Eddie the Sheriff (John Ortiz).
Hang on… there's a man called Dallas in the characters. Will that have some significance later? No, sorry, it doesn't. It'sa red herring. Shame.
Like AvP, this one's a 15-certificate but there's plenty of blood and gore when it counts. Some despatching takesplace just off-camera as one of the aliens discreetly tries to pop off a human, whether he's a general member of thepublic or an army bloke, while the next moment might show you putting its mouth thing through the person's brain.
And these things don't discriminate between men, women or even children. They'll take anything that moves and breathes.These aliens also have a nice new trick up their sleeve when it comes to impregnation, which I won't spoil here 🙂
As with the first movie, though, whereas that one ended with the alien and predator having a WWE-style fight, in thisone it happens all the time – and with multiple aliens, and does get just a little tiresome.
One thing I really liked about the way the previous film, was that after the huge explosion there was still themain alien left to fight. This time round, there is a different twist which allows for a further sequel. Let's justhope they hand the directing reins back to Paul WS Anderson. He managed it far better (and nowhere near as dark) as thepair in charge here.
---
Presented in 2.35:1 anamorphic widescreen, the quality of the DVD is mostly excellent with some outstanding CGI sequencesearly on. There are, however, a couple of fight scenes where the bitrate suffers, but mostly because it's too dark.The sound, though, is never less than impressive with so many moments to select from to show off your sound system,in Dolby Digital 5.1 (and see my comments towards the end about how a DTS 5.1 soundtrack has been overlooked for thisrelease).
The following lists the extras on the second disc, in addition to the commentaries on disc one (one fromdirectors Colin and Greg Strause with producer John Davis, the second from Creature Effects Designers Alec Gillisand Tom Woodruff) and "Coming Soon" which is not-great-quality letterboxed trailersfor Jumper, Be Kind Rewind and Meet The Spartans.
There are eight featurettes plus stills galleries.
Prepare For War – Production and Design: The Making of AVP Requiem (15:52):Presented in 16:9 anamorphic widescreen with 2.35:1 anamorphic widescreen clips from the film, various cast and crewmembers talk about how 'real' they wanted to make the film. Well, they're right in that there's more gore and that'sa good laugh, but they forgot about the characterisation.
Fight to the Finish – Post-Production: The Making of AVP Requiem (12:14):This takes a look at how they got to the final cut included scenes shown in this extended version, which isn't massivelyextended – just a few minutes at most, although there are extra gory moments such as one added into a surprise deathclose to the end that I won't spoil here. 3D storyboards and the sound also get a look-in here.
AVPR: The Nightmare Returns: Creating the Aliens (7:34):Creature Effects co-designer Tom Woodruff says the alien has "a weird perverse sexuality about it". Hmm…

There's talk about how they wanted the alien to look more like the one from James Cameron's movie in this segment.

AVPR: Primitive Design: Creating the Predator (10:26):Another long featurette, that tells you a few bits and pieces, but you get the impression by this point that it'sfilled with quite a lot of waffle from the directors to pad it out. For two of the main people in charge, it sounds morelikea "boys day out" than something they took seriously.
Crossbreed: The Predalien (8:21):You're getting the idea with the way these extras are heading.
Building the Predator Homeworld (6:37):This is what we get to see at the start of the film.
AVPR: Science of the Xenomorph (11:18):Xenomorph translates as "Strange shape" or "alien form", so this piece is about the alien and its genetic make-up.
AVPR: Science of the Hunter (10:46):And this one's about the Predator, but you'd worked that out.
Stills Galleries:Seven of them here: Four for set design and three for the creatures.
One thing we don't get? A trailer. And according to the BBFC, even though the film is a 15-certificate, there's an18-rated trailer out there which would be interesting!
So, if you are a massive fan and need to know every last thing about either creature then these extras should be for you.I do have an interest in them, but these featurettes could've used some trimming to make them more engaging.
Disc one begins with something that should have remained in the days of rental video: Trailers before the main feature.This is what the 'extras' menu is for on DVDs! Thankfully, there's just one trailer: Shine a Light, the one about theRolling Stones tour.
The menus are neat with brief, subtle animation and sound, there are 28 chapters which is great for this running timeand there are subtitles in English for the hard of hearing as well as the two audio commentaries and there's also anaudio descriptive track. However, as that's in DD5.1 as well, this is surely just taking up space that a lovely DTS 5.1soundtrack could have occupied, which is what we got to experience on the previous movie!
FILM CONTENT
PICTURE QUALITY
SOUND QUALITY
EXTRAS















OVERALL




Review copyright © Dominic Robinson, 2008.
[Up to the top of this page]
Reviewer of movies, videogames and music since 1994. Aortic valve operation survivor from the same year. Running DVDfever.co.uk since 2000. Nobel Peace Prize winner 2021.