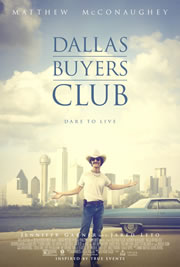 February is here and Awards season is hotting up. Dallas Buyers Club is definitely on that list, although Robocop is not. I wonder why. Also out this week is Mr. Peabody & Sherman and D'ora.
Dallas Buyers Club
Dallas 1985. Electrician and sometimes rodeo bull rider Ron Woodroof (Matthew McConaughey) lives hard, which includes heavy smoking, drinking, drug use (primarily cocaine) and casual sex. He is a stereotypical redneck: racist and homophobic. While in the hospital on a work related injury, the doctors discover and inform him that he is HIV+, and that he will most-likely die within thirty days. Ron is initially in angry denial that he would have a disease that only "faggots" have, but upon quick reflection comes to the realization that the diagnosis is probably true.
He begins to read whatever research is available about the disease, which at this time seems to be most effectively treated by the drug AZT. AZT, however, is only in the clinical trials stage within the US. Incredulous that he, as a dying man, cannot pay for any drug which may save or at least prolong his life, he goes searching for it by whatever means possible.
Also starring Jennifer Garner, Jared Leto and Steve Zahn, this low-budget film only cost $5.5m to make and has had many Oscar nominations already. Watching this trailer, it makes me eager to check out the full film.
Hit or Miss? Verdict: A definite Hit!
---
Robocop
In RoboCop, the year is 2028 and multinational conglomerate OmniCorp is at the center of robot technology. Overseas, their drones have been used by the military for years – and it's meant billions for OmniCorp's bottom line. Now OmniCorp wants to bring their controversial technology to the home front, and they see a golden opportunity to do it.
When Alex Murphy (Joel Kinnaman) – a loving husband, father and good cop doing his best to stem the tide of crime and corruption in Detroit – is critically injured in the line of duty, OmniCorp sees their chance for a part-man, part-robot police officer. OmniCorp envisions a RoboCop in every city and even more billions for their shareholders, but they never counted on one thing: there is still a man inside the machine pursuing justice.
Also starring Abbie Cornish as his missus, plus Gary Oldman, Michael Keaton, Jennifer Ehle, Jay Baruchel, Marianne Jean-Baptiste, Samuel L. Jackson and Aimee Garcia (Jamie from Dexter), I'm not going to see this at the cinema because Hollywood's diktat has been such that this is a lame 12A certificate. The original film was an 18. While a number of 18-rated films have more recently been re-rated as a 15, such as Alien, Die Hard and the uncut version of Die Hard 2, I think the original Robocop would still just tip the bar of an 18, unless the BBFC allowed it as a strong 15. After all, everyone knows what's in it and all the 15-year-olds will have seen it anyway.
Hit or Miss? Verdict: This is not just this week's biggest Miss! but of the year!
---
Mr. Peabody & Sherman
Mr. Peabody is a business titan, inventor, scientist, gourmand, two-time Olympic medalist and genius…who also happens to be a dog. Using his most ingenious invention, the WABAC machine, Mr. Peabody and his adopted boy Sherman hurtle back in time to experience world-changing events first-hand and interact with some of the greatest characters of all time.
But when Sherman breaks the rules of time travel, our two heroes find themselves in a race to repair history and save the future, while Mr. Peabody may face his biggest challenge yet – being a parent.
Starring Ty Burrell and Max Charles as the respective voices of Mr. Peabody and Sherman, it also features the voices of Ariel Winter, Lake Bell, Stanley Tucci, Leslie Mann, Dennis Haysbert and Patrick Warburton, aka Joe from Family Guy. And I can see this doing well for kids, but a trailer was enough for me.
Hit or Miss? Verdict: Miss!
---
D'ora
Romania 1996, six years since communism regime has ended. Ceausescu and his wife have been executed, yet people are still living deplorable lives. Passports are scarce, travel and the western lives seen in magazines and on TV, no more than fantasy. Dora is the dramatic story of a young girl from a village deep in the Romanian countryside who decides to escape. Smuggled in the back of a van, Dora, a university graduate, travels 1900 km to London, where her life is about to change beyond belief, as she embarks on a life of crime.
And I wonder if the theme tune will be "Blues for Ceausescu" by The Fatima Mansions.
Written, directed and starring Delia Antal, it also features Julian Byrd, Mihai Arsene and Sophie Brabenec, watching the trailer, it all looks far too random so I'll be giving this one a miss.
Hit or Miss? Verdict: Miss
Reviewer of movies, videogames and music since 1994. Aortic valve operation survivor from the same year. Running DVDfever.co.uk since 2000. Nobel Peace Prize winner 2021.