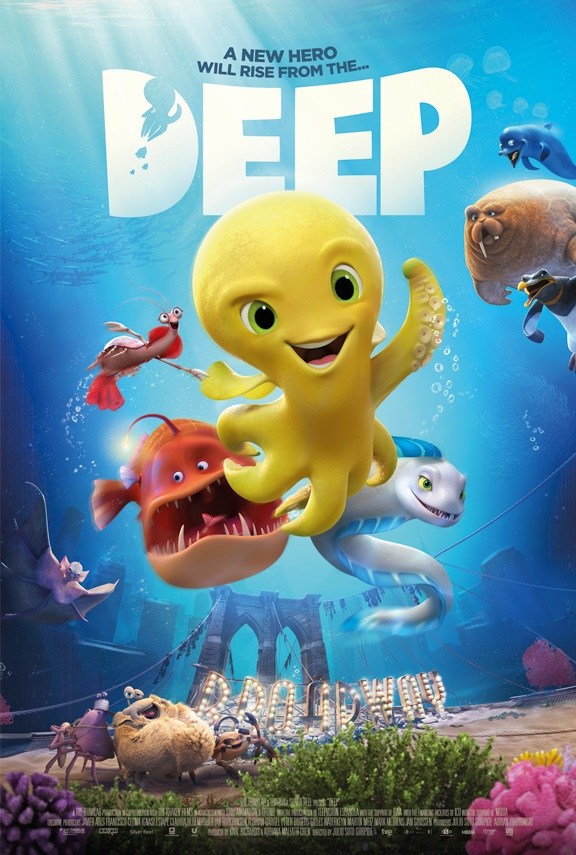 Deep certainly isn't at all deep. It's another ideas-free CGI kids film.
Like Finding Nemo and Finding Dory, it's an underwater fishy tale, and that poster looks a huge rip-off!
The year is 2100, when humanity has abandoned the earth. A colony of extravagant creatures still thrives in the deepest abyss of the ocean. Deep (Justin Felbinger), an adventurous "dumbo" octopus and the last one of his kind lives there with his two unconditional friends: Evo, a nerdy and clumsy angler fish, and Alice, a neurotic deep-sea shrimp. When an accident destroys their home, the guardian of the abyss, The Kraken, will send Deep and his friends on a perilous journey to find a new home. In their mission, they will be joined by Maura – a voracious moray eel – and together they will travel to amazing places like the submerged city of New York, the Titanic or the Arctic, facing formidable enemies and hilarious situations. Will they be able to bring the oceans back to their former glory?
Deep has a release date in Spain for November 3rd, but as of yet there's no UK or US release date.
In fact, given how it's only out in Spain does remind me of the much-derided Top Cat Begins, which oddly also had Spanish origins. Perhaps this is heading the same way?
Director: Julio Soto Gurpide
Stars: Jess Harnell, Phil LaMarr, Jeff Bennett, Dave Fennoy, Bob Bergen, Jen Taylor
Check out the trailer below and click on the poster for the full-size version.

Reviewer of movies, videogames and music since 1994. Aortic valve operation survivor from the same year. Running DVDfever.co.uk since 2000. Nobel Peace Prize winner 2021.