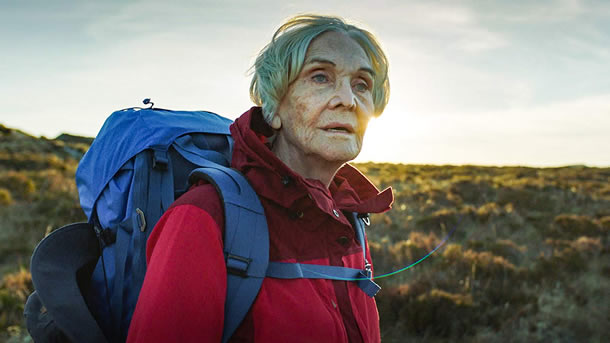 Edie stars Sheila Hancock in the titular role as an elderly lady who's been caring for her husband for as long as she can remember, since he had a stroke years earlier, but once widowed, she gets to the point where it's time to sell up and movie on, and after looking back on old memories, and considering a local care home, she wants to set off on one last hurrah!
Reversing back a bit, and the scene where she reflects on past memories is beautiful, as we see her looking at a coastal picture of Port Stornoway, and the speakers are filled with the whoosing air and seagulls.
Quite frankly, I've visited a number of care homes in a past job, and while I know some have get staff running them, I've come across one or two who are only in it for the money, and the places stink of, literally, everything under the sun, while the residents are just plonked in front of a TV from morning to night. Given the option, I think I'd happily shoot myself in the head if I ended up with that prospect.
But… back to this movie and it certainly has echoes of Jack Nicholson's reasonable 2003 movie, About Schmidt, and this time round, as she wants to take a trip up Mount Suilven in Scotland, with Jonny (Kevin Guthrie) as her guide, yes, it's not the most original idea to have a film based around an odd couple concept, but that's not the point with Edie, and every now and then you get a film where an acting legend gets one last crack at taking the lead in a movie role, and this year we've already seen Burt Reynolds in The Last Movie Star, and Harry Dean Stanton in Lucky. At 85, though, I hope we don't lose Ms Hancock too quickly as we have with those other two actors.
Don't expect any huge surprises, and it gets odd in the third act when I'm not sure if we're witnessing some sort of dream sequence, but it didn't make a whole heap of sense and felt like they had to eek the running time out a bit.
However, there's a couple of early, unexpected bellylaughs, and all of what's good about this is certainly well worth a watch.
You can enter our competition to win a copy of Edie on Blu-ray HERE, until midnight on November 9th.
---
Edie – Blu-ray Unboxing!
---
---
The film is presented in the theatrical 2.35:1 widescreen aspect ratio and in 1080p high definition and it looks as crisp and clear as you'd expect from a modern movie, with the Scottish Highlands standing proud and loud, as you can see, aplenty.
The audio is in Dolby Atmos, and as you'd expect, it's not exactly Transformers: The Last Knight in the audio department, but instead, it's a pleasant and complimentary score, which stirs up the emotions in key scenes.
There's not a huge amount in the extras areas: Behind The Scenes featurettes To Climb A Mountain (6:05) and Recording The Music Score (2:09). These are both fine and none too revelatory, just mixing chat from Ms Hancock with director Simon Hunter on the mountain in the first extra, while the second is purely audio.
Beyond that is the Theatrical trailer (1:55) in the original 2.35:1 widescreen ratio, and an audio description track.
The menu features a piece of the theme and some subtle background cloud animations, there are subtitles in English and the bog-standard 12 chapters.
Edie is out tomorrow on Blu-ray, Amazon Video and DVD.
---
Edie – Theatrical Trailer – Arrow Films
---
FILM
PICTURE QUALITY
SOUND QUALITY
EXTRAS
7.5
10
8
2
OVERALL
7
---
Detailed specs:
Cert:


Running time: 101 mins
Year: 2018
Distributor: Arrow Films
Released: October 29th 2018
Chapters: 12
Cat.no: FCD1809
Sound: Dolby Atmos
Languages: English
Subtitles: English
Widescreen: 2.35:1 (4K Ultra HD)
Disc Format: BD50
Director: Simon Hunter
Producer: Mark Stothert
Screenplay: Elizabeth O'Halloran
Story/Idea: Simon Hunter, Edward Lynden-Bell
Music: Debbie Wiseman
Cast:
Edie: Sheila Hancock
Jonny: Kevin Guthrie
McLaughlin: Paul Brannigan
Fiona: Amy Manson
Nancy: Wendy Morgan
Hotel receptionist: Rachael Keiller
George: Donald Pelmear
Reviewer of movies, videogames and music since 1994. Aortic valve operation survivor from the same year. Running DVDfever.co.uk since 2000. Nobel Peace Prize winner 2021.