Dom Robinson reviews

Grand Theft Auto: San Andreas forXbox

Distributed by
Rockstar North
Game:
Soundtrack:
Price: £39.99
Players: 1
Widescreen: Yes
60Hz: No
Dolby Digital 5.1 Sound: Yes
Xbox Live-enabled: No
Grand Theft Auto: San Andreas is out now on Xbox, and I you can read the premise et al in my PS2 review, since here, I'll just get into discussing the Xbox version.
Like comparing the PS2 game with its past editions, it's a similar story here. The graphics aren't much different compared to Grand Theft Auto: III/Vice City. There's still the same old jaggies (which could easily have been attended to), but this time you do get a good warm glow as flickering fire reflects on your clothes, and there's also nice scraping effects from the car as you go against the side of a barrier.
Music is better in that, on the Xbox, you can create your own soundtracks with CDs ripped to your Xbox's hard drive.
---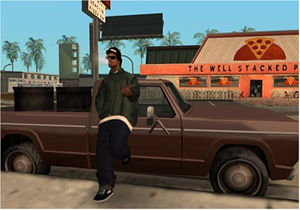 For the gameplay, it's mostly the same, but it's cumbersome to use the small white and black buttons as viewing left and right (or holding both to see behind you) as you're losing a set of shoulder buttons compared to the PS2 version, so that's also going to make it a real pain to do drive-by shootings, as well as accidentally getting out of the car by pressing 'Y' when you thought it'd make the car reverse. I wish Rockstar would make the buttons customiseable so I could've made 'A' the accelerate button in the car (where the PS2's 'X' is), thus freeing up the shoulder buttons for left/right viewing/shooting.
There are still has some annoying traits like trying to shoot someone in your sights close-up, but he just turns away and blasts straight into the air(!)
On a lighter note, amidst the effing and jeffing, I did laugh when they start calling each other a fool, sounding like Mr T!
All that said, for Xbox owners who've been waiting for their slice of San Andreas in the latest GTA game out for sale, this does have far more pros than cons, so it's worth a purchase for sure, if you enjoyed the previous games in the series.
How much will I play of the Xbox version? Well, I'm only around 25% into the PS2's, and I've been playing that on and off for months, so I'll probably stick with that for the plot, but visit the Xbox for a good long session of chase with the police, given the improved visuals over the PS2.
GRAPHICS
SOUND EFFECTS AND MUSIC
PLAYABILITY
ENJOYMENT

















OVERALL




Review copyright © Dominic Robinson, 2005.
[Up to the top of this page]
Reviewer of movies, videogames and music since 1994. Aortic valve operation survivor from the same year. Running DVDfever.co.uk since 2000. Nobel Peace Prize winner 2021.