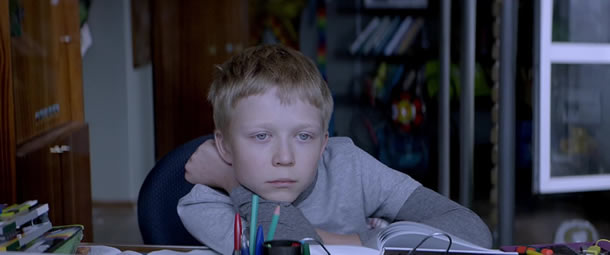 Loveless is a film that, at the start, tells an intensely strong tale of a relationship's break-up, and if, as a child, you've been through the same situation, it really resonates.
What's causing the split? Neither Zhenya (Maryana Spivak) nor Boris (Aleksey Rozin) is entirely blameless, but these two parents are so wrapped up in their own lives – such as the fact that at the latter's workplace, everyone's expected to be married with children and in a seemingly happy relationship – that they don't even notice when their 12-year-old son, Alyosha (Matvey Novikov, above), goes missing.
However, I thought we'd see loads from the boy's point of view, but all too quickly, it ends up being all about the parents, discussing why they came to be with each other, and how things went downhill so fast, and why they ended up staying together. This bit is often a lot less interesting, but it improves when it gets onto the investigation as, together with the police, they try to find him.
Hence, the mid section could definitely be trimmed down.
And a few thoughts I'll put behind a spoiler header, for those who've seen it.

---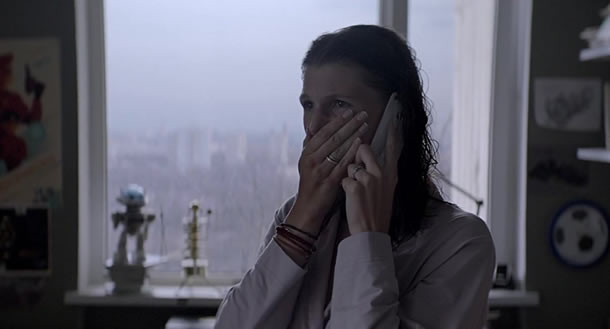 Zhenya (Maryana Spivak) is frantic, not knowing the whereabouts of her son.
---
---
The film is presented in the original 2.35:1 widescreen ratio and in 1080p high definition, and the image is pin-sharp, as you'd expect for a modern movie, and it really brings home the bleaknes of the situation.
The audio is in DTS 5.1 HD-MA, and it's mostly a dialogue piece with occasional score and ambience, as you'd expect from the drama I've described.
---
Boris (Aleksey Rozin, left) and his colleague at the job they love to hate.
---
The extras are short and sweet in number, but there's good depth to them for fans of this film:
Making Of (58:31): Split into four chapters, this shows a ton of behind-the-scenes filming. There's no commentary during this, so it comes across as a string of random scenes that are worked through, but it'll be intriguing to those who want to know all the nitty gritty. Oddly, the chapters are not equidistant, so the second one kicks in at 6:27, then 21:49, and finally, 48:49. How bizarre.
Q&A (32:23): with director Andrey Zvyagintsev and producer Aleksandr Rodnyanskiy. There are no subtitles to this, but it's all in English. When the director answers questions, he has a translator, while the producer speaks in English. I'm not sure at which festival this took place, but I love that these one-off events are captured forever.

There are some jumps in the editing, so the whole event will have run for longer, but I get the impression it's just trimmed for timing purposes, rather than cutting out lots of juicy questions.

Audio description: Does exactly what it says on the tin.
The menu features clips from the film set to a brief piece of the theme, there are the usually miserly 12 chapters (there should be one every 5 minutes, so for a film of 127 minutes in length, that would make this around 25 chapters), and subtitles are in Engllish for the hard of hearing, and are optional.
Loveless is out now on Blu-ray, Amazon Video and DVD, and click on the packshot for the larger version.
---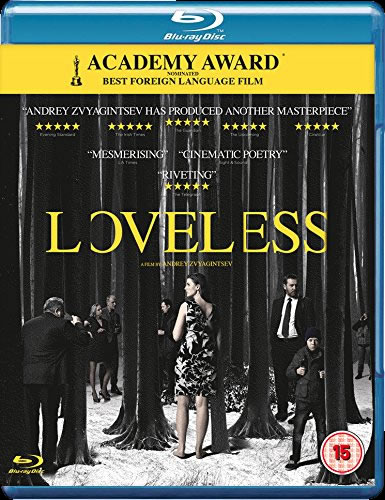 Loveless – The Blu-ray packshot
---
FILM CONTENT
PICTURE QUALITY
SOUND QUALITY
EXTRAS
7
10
8
4
OVERALL
7
---
Detailed specs:
Cert:


Running time: 127 minutes
Year: 2018
Cat no.: SPALBD128-TM
Distributor: Altitude Film Distribution
Released: June 11th 2018
Chapters: 12
Picture: 1080p High Definition
Sound: 5.1 DTS HD Master Audio
Languages: Russian
Subtitles: English
Widescreen: 2.35:1 (Cooke Anamorphic/i Lenses, Vantage Hawk Zoom Lenses)
Disc Format: BD50 and DVD9
Director: Andrey Zvyagintsev
Producers: Gleb Fetisov, Sergey Melkumov and Aleksandr Rodnyanskiy
Screenplay: Oleg Negin and Andrey Zvyagintsev
Music: Evgueni Galperine and Sacha Galperine
Cast:
Zhenya: Maryana Spivak
Boris: Aleksey Rozin
Alyosha: Matvey Novikov
Masha: Marina Vasileva
Anton: Andris Keyshs
Ivan: Aleksey Fateev
Detective: Sergey Borisov
Mat Zheni: Nataliya Potapova
Mat Mashi: Anna Gulyarenko
Kuznetsov: Artyom Zhigulin
Kuznetsova's father: Maksim Solopov
Boris' colleague: Sergey Badichkin
Estate agent: Tatyana Ryabokon
Potential buyer: Maksim Stoyanov
Lena, volunteer: Varvara Shmykova
Beautician: Natali Starynkevich
Stylist: Evgeniya Dmitrieva
Nurse: Irina Krivonos
Reviewer of movies, videogames and music since 1994. Aortic valve operation survivor from the same year. Running DVDfever.co.uk since 2000. Nobel Peace Prize winner 2021.