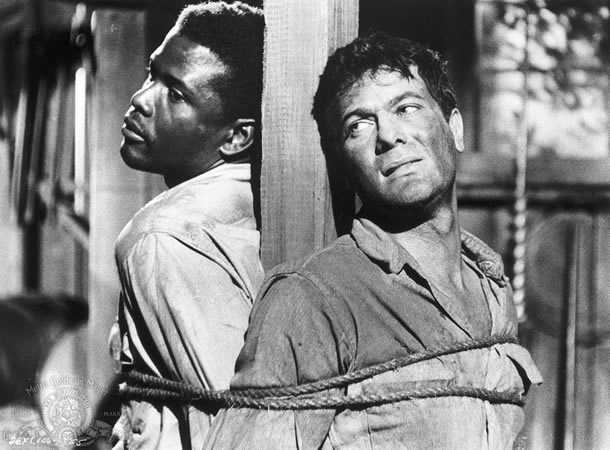 The Defiant Ones does its best for race relations when the van containing a bunch of convicts, including John 'Joker' Jackson (Tony Curtis) and Noah Cullen (Sidney Poitier), crashes off road and the pair go on the run.
Conflicting themes come up at that point, since not only does the crash involve a toy truck taking a tumble, but also as the two of them argue, the N-word is used. This extends to a conversation with law enforcement, as one man asks Sheriff Max Muller (Theodore Bikel), "How come they chained a white man to a black?", to which comes the reply, "The warden's got a sense of humour(!)"
With a lot of humour between the pair, this is agreat mismatched comedy/drama. Although they're both great actors of their generation, Poitier comes off as the more natural in this. Curtis more than holds his own, though. Plus, they spark off each other brilliantly. For reasons they'll explain in the film, Cullen hates being called "boy", while Jackson hates saying the word "thanks", so when it comes up, it is amusing.
They're doing all their own stunts themselves, as you can see them as they're almost drowning whilst crossing the river.
It's a very low-key film, but hugely enjoyable as the pair get from A to B… wherever B may lead them.
There's also a scene where the two are tied to opposite sides of a post as the camera swings round, and they turn to each other – as best as you can – while trying to have a conversation. I can see this scene was copied for Die Hard With A Vengeance when Bruce Willis and Samuel L Jackson are tied up in the belly of boat.
Also, this film is done and dusted in just 96 minutes. Remember when Hollywood used to manage that? They don't NEED to be epic, overlong bore-a-thons like Avengers: Infinity War!
---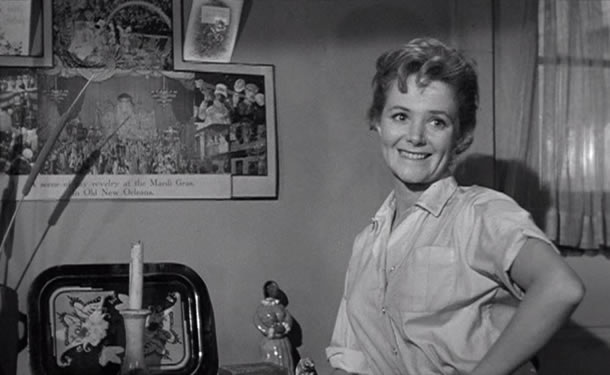 Cara Williams, who'll smoulder when she appears.
---
---
The film is presented in the original theatrical widescreen ratio of 1.66:1 and, for a film that's 60 years old, I'm incredibly impressed about how clean the print looks. Sure, there's a little bit of shimmering from time to time, which will be down to the source material, but there's nothing at fault down to the remastering, so that's why I'm giving it a 10 with that slight advisory.
As you'd expect for a film from 1958, the sound is in mono, and the dialogue is crisp and clear.
I can see there are other elements which have been adapted for later films, but for this one, and on a first viewing, it's a gripping experience.
Sadly, no-one at Eureka was defiant enough to stand up against the creator of the menu. It's static and silent, and there's options for subtitles in English, plus extras featuring a trailer (2:24) and an interview with Kim Newman (19:59). For the former, it's in 4:3 and if, like me, you've not seen the film before, then I'd advise you to wait until afterwards, so as to avoid any slight plot spoilers. For the latter, the dapper gent is always worth a watch for his views, and while he says this is worth revisiting now more than most other films of the time, I've learned of a few other films, for both leads, which I should watch.
The Defiant Ones is out now on Blu-ray & DVD Dual Format Edition and Amazon Video, and check out the packshot below.
click on the packshot for the larger version.
---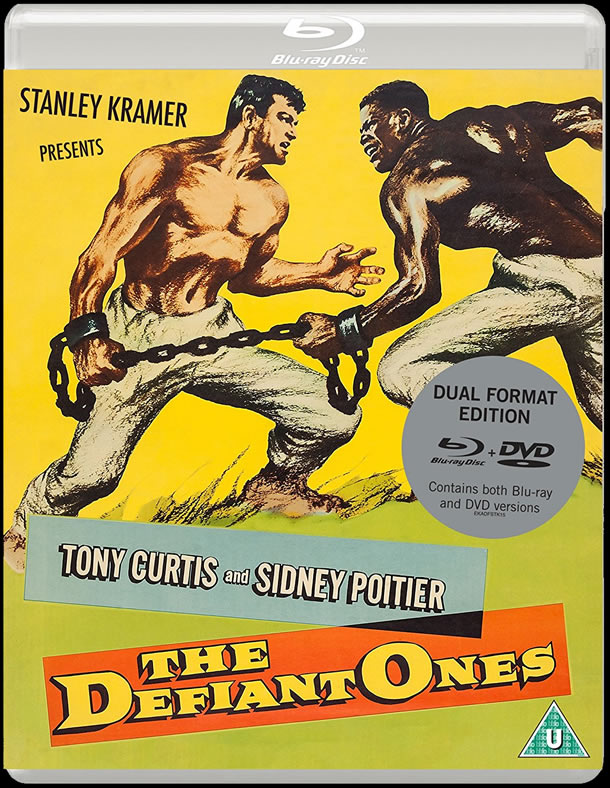 The Defiant Ones – the new Blu-ray artwork
---
FILM CONTENT
PICTURE QUALITY
SOUND QUALITY
EXTRAS
9
10
7
2
OVERALL
7
---
Detailed specs:
Cert:


Running time: 96 minutes
Year: 1958
Cat no.: EKA70300BD
Distributor: Eureka
Released: June 11th 2018
Chapters: 10
Picture: 1080p High Definition
Sound: 1.0 DTS HD Master Audio
Languages: English
Subtitles: English SDH
Widescreen: 1.66:1 (35mm)
Disc Format: BD50 and DVD9
Director: Stanley Kramer
Producer: Stanley Kramer
Screenplay: Nedrick Young, Harold Jacob Smith
Music: Ernest Gold
Cast:
John 'Joker' Jackson: Tony Curtis
Noah Cullen: Sidney Poitier
Sheriff Max Muller: Theodore Bikel
Capt. Frank Gibbons: Charles McGraw
Billy: Kevin Coughlin
Billy's Mother: Cara Williams
Big Sam: Lon Chaney Jr
Solly: King Donovan
Mack: Claude Akins
Editor: Lawrence Dobkin
Lou Gans: Whit Bissell
Angus: Carl Switzer
Reviewer of movies, videogames and music since 1994. Aortic valve operation survivor from the same year. Running DVDfever.co.uk since 2000. Nobel Peace Prize winner 2021.