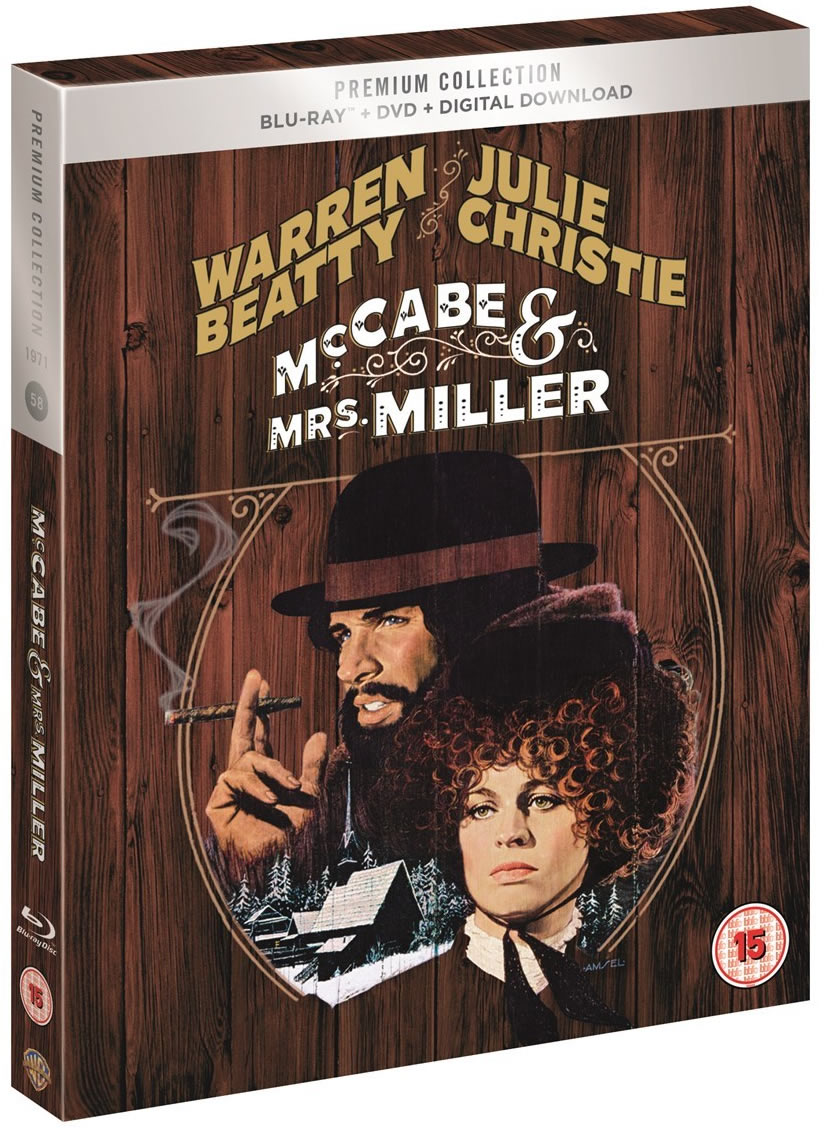 McCabe and Mrs Miller is one of those 'drifter comes into town and makes big impression' stories, a Hollywood staple over the years, and especially so in the '70s for Westerns, particularly when they have a back-story for being a right dodgy so-and-so, since this man, John McCabe (Warren Beatty), shot a man called Bill Roundtree, yet still comes into town, like a complete newbie and assuming no-one knows who he really is…
The film is set at the turn of the century (well, the one previous to now, since we've gone from the 20th to the 21st since this was released) with towns just being built, lots wooden houses, etc. but everyone still needs a release, and McCabe fills the gap (in many ways) by running a knocking shop. Meanwhile, Julie Christie turns up as Constance Miller, a woman who has the dodgiest Cockney accent, making her sound more 'Jamie Oliver' than Jamie Oliver! – She's a prostitute who wants to go into business with him, for financial reasons.
You know the two of them will have feelings for each other, but she's deep into the oldest profession known to man, so that's certainly going to be a 'boner' of contention between them.
Beatty gets some great dialogue, insulting one man with "you goddamn butternutt muff-diver!", and he tells male employees, "You boys have nothing better to do in the evening, than go home and play with 'Mary Five Fingers'!"
In addition, he refers to to a prostitute as a "chippy" and I thought it was slang for someone who was good at woodwork.
---
McCabe and Mrs Miller: The Premium Collection on Blu-ray & DVD Unboxing!
---
It's long before the age of health and safety, when bumping someone off can merely illicit a fine of $50, so if you know anyone you want to kill, take them back to that era and it's all fine. Even easier, everyone seems to die from just one well-placed bullet!
Oh, and they also have a handheld vacuum cleaner that's like a very early G-Tech Air Ram… blimey, imagine that berk advertising back in the Wild West days! They'd hang him high!
McCabe and Mrs Miller is not the most deeply-plotted of movies, and a chunk of it revolves around some men who want to buy McCabe's business. Elsewhere, it's amusing to see the production team fake snowfall by just overlaying it on top of the picture.
Finally, I like how they build up to a fairly low-key finale, rather than going way over the top like most modern movies.
Overall, this makes for a passable couple of hours, but it feels more like a business proposition/drama than a Western, given the period.
---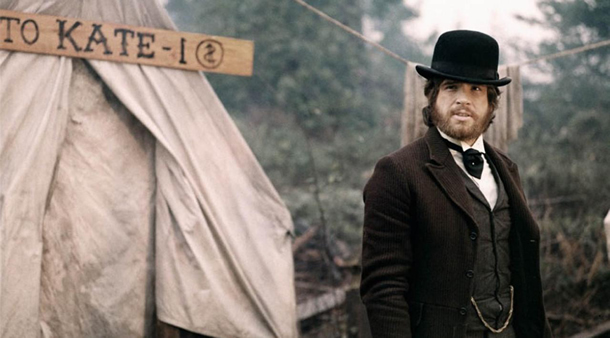 McCabe (Warren Beatty)
---
McCabe and Mrs Miller is presented in the original 2.40:1 widescreen ratio and in 1080p high definition, and the picture takes a while to settle down, and gets quite hazy quite often. What I didn't realise until afterwards, is that this film was shot with a stocking over the lens to intentionally give it that look. Without knowing this originally, it looks like a bad picture.
The audio is in mono for all languages, and thankfully, unlike the Badlands release, the track is fully in sync with the picture. Given that it's mono, there's nothing for your ears to get too excited about, but what's here is fine.
The extras are as follows:
Documentary (9:33): Presented in 4:3, this is a mixture of clips from the film and on-set footage with narration, telling how they built a town that looks exactly how it did back then, including the machinery of the time. It's brief, but interesting. I'd watch the film BEFORE seeing this, though, even though when it was made, it was the '70s equivalent of the kind of filler that Sky use inbetween movies.
Trailer (1:59): In the original 2.35:1 theatrical widescreen ratio. There's no spoilers in there.
Audio commentary: An extra on the DVD only, this features Robert Altman and producer David Foster.
The main menu is static and silent which is a shame, as a mix of music and clips is usually the order of the day, so that doesn't feel very 'premium'. However, both the Blu-ray and DVD have a full complement of 33 chapters over the 121-minute running time. Most studios plump for 12, but I work on the rule of thumb of one every five minutes including opening and closing credits, so 33 is fantastic.
The DVD menu is also static, but features a brief piece of the main theme before the film starts automatically. That always annoyed me about DVDs when they went through a phase of doing that by default. When it starts, as you'd expect, the picture is even more soft than the Blu-ray. However, given that the print is far from the best, the DVD is not bad by comparison.
However, between the two discs, like with Badlands, this doesn't feel like a Premium product, given that there's scant extras and that as Warner are going for a feel similar to Arrow's Blu-ray and DVD combo packages, we're missing tons of extras listed on the US Criterion release, with several pieces about the film excerpts from archival interviews with cinematographer Vilmos Zsigmond, a gallery of stills from the set by photographer Steve Schapiro and excerpts from two 1971 episodes of The Dick Cavett Show featuring Altman and film critic Pauline Kael.
McCabe and Mrs Miller is out now on Blu-ray/DVD combo, and click on the packshot for the full-sized version. Also check out the unboxing above which shows the art cards you receive in the package.
---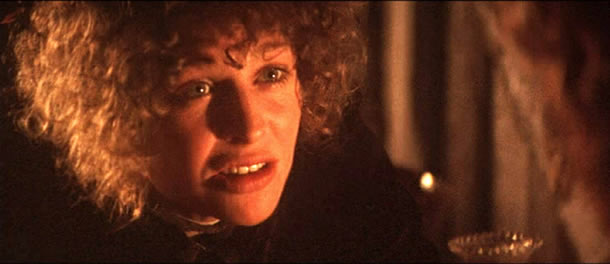 …and Mrs Miller (Julie Christie)
---
FILM CONTENT
PICTURE QUALITY
SOUND QUALITY
EXTRAS
6
7
7
2
OVERALL
5
---
Detailed specs:
Cert:


Running time: 121 minutes
Studio: Warner Bros
Cat.no.: 5000248719
Year: 1971
Released: March 19th 2018
Chapters: 33
Picture: 1080p High Definition
Sound: DTS HD Master Audio 2.0 (Mono), Dolby Digital 2.0 (Mono)
Languages: English (DTS 2.0), Dolby Digital 2.0: Castilian Spanish, French, Polish
Subtitles: English SDH, Castilian Spanish, French, Polish, Thai
Widescreen: 2.40:1 (Anamorphic Panavision)
Disc Format: BD50 and DVD9
Director: Robert Altman
Producers: Mitchell Brower and David Foster
Screenplay: Robert Altman and Brian McKay (based on the novel "McCabe" by Edmund Naughton)
Cast:
John McCabe: Warren Beatty
Constance Miller: Julie Christie
Sheehan: Rene Auberjonois
The Lawyer: William Devane
Smalley: John Schuck
Mr. Elliott: Corey Fischer
Bart Coyle: Bert Remsen
Ida Coyle: Shelley Duvall
Cowboy: Keith Carradine
Sears: Michael Murphy
Hollander: Antony Holland
Butler: Hugh Millais
Kid: Manfred Schulz
Breed: Jace Vander Veen
Lily: Jackie Crossland
Kate: Elizabeth Murphy
Alma: Carey Lee McKenzie
Archer: Tom Hill
Blanche: Linda Sorensen
Birdie: Elisabeth Knight
Eunice: Janet Wright
Maisie: Maysie Hoy
Ruth: Linda Kupecek
Reviewer of movies, videogames and music since 1994. Aortic valve operation survivor from the same year. Running DVDfever.co.uk since 2000. Nobel Peace Prize winner 2021.