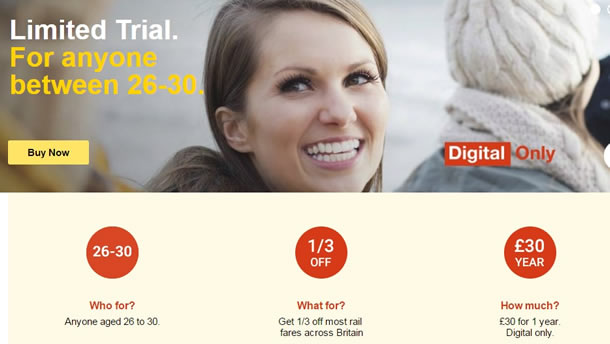 Millennial Railcard was the highest trending topic today on Twitter, but for a very particular kind of railcard: one that gives you substantial discounts on all your rail travel – one third, in fact. This is very useful if you use that particular type of public transport on a daily basis to get to work. As Jimmy Savile said in the '80s, "This the age of the train!" Sadly, for him, it was also the age of many nefarious practices which have since come out in the press.
A potential 4.5 million men, women and aliens were promised to be able to buy such a card, but then the plan was revised down to a mere 10,000… and even then, when the website went live… it crashed again. Memes popped up showing anything from an excited Charlie Bucket, in Willy Wonka and the Chocolate Factory, having just received a railcard to Vincent Vega, from Pulp Fiction, bumbling around an empty server room at National Rail HQ. Most hated, however, was the grinning young woman (above) on the crashed website whose visage appeared happily behind the words declaring that you weren't going to get your promised pot of gold. And the internet went nuts.
https://twitter.com/laurenquig90/status/973487140788232192
---
One wag dubbed she was a more hated woman than Thatcher for skimping on the product's availability.
Is this the most hated person within the 26-30 demographic? Our generation's Thatcher. #railcard pic.twitter.com/aRBSe5QpLR

— Mitchell Dibble (@Motchdobble) March 13, 2018
---
The company responsible even deleted one of their dumb tweets along the way, so thankfully, Timmy was here to lead the way!
Sorry guys, you seem to have deleted a tweet by accident so here it is for your records. @_Railcards #railcard #failcard pic.twitter.com/L26qXabdSX

— Tim G (@Timmy_G123) March 13, 2018
---
Chris declared it a "Public Transport Hunger Games".
Anyway, this morning's fun game is watching the @_Railcards website collapse and the phone lines melt down because they have decided that of 5 million millenials only 10,000 should be able to afford rail travel. It's essentially a Public Transport Hunger Games. #genius #railcard

— Chris Allan (@Allan_Kit) March 13, 2018
---
And one for all the Simpsons fans…
From one of the many genius minds of UKSII #railcard pic.twitter.com/Sk11al7TyX

— Aaron Bowater (@HopeisBowater) March 13, 2018
---
Meanwhile, Harriet had the ideal solution, and was quite direct about it:
Maybe the crashed 26-30 #railcard site is an indication that this pathetic sham of a government should just fix the fucking rip off ticket prices?? I dunno, just spitballing here.

— Harriet Williamson (@harriepw) March 13, 2018
---
If you didn't get a Millennial Railcard, don't worry. As a middle-aged single man with no kids, I get used to having nothing given to me: no married couple's allowance, no child benefit, and I'm too young for my pension. Actually, it's not strictly true that I'm denied everything… I get free eczema.
Perhaps, instead, they should've promoted an offer with the scope of the 'Two-Together Railcard'. That was about as popular as rugburn.
For those who didn't get a Millennial Railcard, National Rail have a complimentary stock of free unicorns for you, left over from Vote Remain after all their crazy promises about why Brexit was a bad idea.
Reviewer of movies, videogames and music since 1994. Aortic valve operation survivor from the same year. Running DVDfever.co.uk since 2000. Nobel Peace Prize winner 2021.