RoboCop is one of the most iconic action films of all-time, showing off the capitalist greed of the 1980s whilst containing some of the most violent scenes committed to film at the time, not least when ED-209 goes a little ka-ka and obliterates one of OCP's employees during a test run. It certainly earned it's 18-certificate, and that was proved when ITV broadcasted it while they were still heavily censoring films, with that scene massively cut as well as all of the language, with Dick Jones fuming, "Sometimes, they even called me *airhead*!" when he obviously meant something else.
The sequel, however, was just terrible, and when RoboCop 3 came round, with Peter Weller replaced by indie actor Robert Burke, the violence had been toned down and the certificate was lowered from 18 to a 15. Then came the short-lived TV series, where the metal cop disabled bad guys, not by killing them, but by, say, shooting a pile of boxes which just falls *on* to them. So when a remake was announced, and that it was going to be a 12-cert, this seemed like the worst idea in the history of ideas. 12A is rubbish for a RoboCop film. It sounds like Die Hard 5 all over again.
Some 18-rated films these days are resubmitted for an uncut 15-cert if they're shown again in the cinema, like the first 2 Die Hard films, and even the third film is now an uncut 15. For RoboCop, I guess even if the original would still be an 18 for the ED-209 scene alone, along with Miguel Ferrer's nose candy.
Anyhoo, can this remake win me over? I'll give any film a fair crack of the whip, even one with a tough row to hoe as with this.
---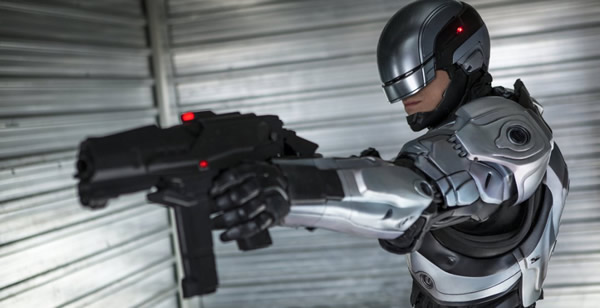 ---
This RoboCop is set in 2028 and opens with a news crew in Tehran filming a city being patrolled and apparently protected by roaming ED-209s and some lesser robots. Local suicide bombers want to make their point while getting on camera, however, so things aren't going to end well for those selfish, deluded twats. Looking forward to those 72 virgins you were promised? Jeez, someone saw you coming! The only thing any of us have to look forward to once we shuffle off our mortal coil is absolutely nothing, so, in the immortal words of Vanilla Ice, "check yourself before yo wreck yourself!"
Since the latest polls show up that most Americans don't want robot cops patrolling the streets, as they can't convey any emotions and have no conscience, what happened in Tehran isn't expect to play out in Detroit any time soon, so OCP CEO Raymond Sellars' (Michael Keaton) big idea is to put a man in a machine because people will only truly appreciate a real human on the beat. Really? Does that also include the soulless time-wasters at Greater Manchester Police?
Joel Kinnaman can't act his way out of a paper bag. Okay, Peter Weller wasn't exactly the most expressive actor around but at least he carried a certain gravitas.
Everyone else onscreen is similarly just going through the motions as if they can't wait until their next break for a meal is due, whether it's Gary Oldman as the doctor in charge of it all, OCP head Keaton, Abbie Cornish boring us to tears as the dutiful wife, Jennifer Ehle giving her most wooden appearance to date as an OCP bigwig, and even Michael K. Williams, once so good as Omar Little in The Wire, here playing Murphy's partner, Jack Lewis.
Aimee Garcia also pops up as Oldman's underling, Jae Kim. Fans of Dexter will remember her as Jamie the nanny, as well as Angel's daughter. She's still achingly hot.
Go to page 2 for more thoughts on the film, plus the presentation and extras.
---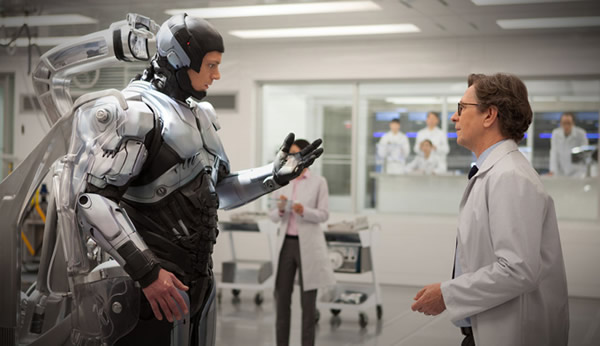 ---
Reviewer of movies, videogames and music since 1994. Aortic valve operation survivor from the same year. Running DVDfever.co.uk since 2000. Nobel Peace Prize winner 2021.