The town of Barrow, Alaska, is cut off for 30 Days Of Night every winter, which I guess makes up for the endless daylight seen at the other extreme of the year. They're also surrounded by 80 miles of roadless wilderness.
As many of the residents take their leave for this period, only because they can't stand the eternal darkness, the sun sets for the last time and both Sheriff Eben Oleson (Josh Hartnett, below-right) and his colleague Marlow (Danny Huston, bottom pic) are there to witness it. Also thrown into the mix is Eben's estranged wife, Stella (Melissa George, ex-Home And Away star who has since gone on to a very varied career with movie roles in Dark City, The Limey, Down With Love and the 2005 Amityville Horror remake, as well as TV roles in Charmed, Monk and Alias), with whom he hasn't spoken in a long time, although if you hadn't seen that they share the same surname in the credits then they could just have been boyfriend and girlfriend as their marriage is never mentioned in the movie.
She's bound for the airport until circumstances stop her from getting there and – well, her character wouldn't even have been written if she wasn't destined to hang around in Barrow, so she's in for the long haul. Eben learns this as he has to arrest a seemingly stoned stranger (Ben Foster, great here as a raving nutter, and who has also been making a name for himself in recent years with Six Feet Under and movies including Hostage, 3:10 To Yuma and X-Men: The Last Stand), who keep wittering on with prophecies on how they're all doomed, so he's quickly slung in a cell until he starts to make some sense.
He's also called away to the home of one of the townfolk, John Riis (Black Sheep's Peter Feeney), who makes the grim discovery that all his sled dogs have been slaughtered in cold blood, but who on Earth could be behind such a despicable act?
---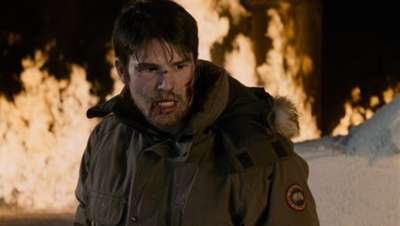 There's a long cast list, including a few more made up of the nameless (in the movie, at least, even though they have names in the credits), but it's really a case of "Who will get bumped off next?" and while it's a given that Eben and Stella will begin to resolve their differences and find some common ground, things don't always take the course of action you expect and there's also one or two surprises about how some characters will meet their demise.
On the plus side, there are some majorly cool kills, such as when one character takes control of a trencher with a huge cutting arm at the front, so when baddies get in the way of it, body parts will get chopped off, and that's if they haven't yet met with the shotgun he's carrying! This film also has the (razor sharp) edge above any others I've seen involving decapitation with an axe.
In addition, Melissa George (below-right) is soooooooo fit, as is Brit actress Amber Sainsbury (penultimate pic, at the film's premiere) who should've had more lines, but still sticks around for quite a while.
However, the premise of a slasher flick where all the characters are trapped in a town for an entire month could've had a lot more scope to it that just isn't explored here and the ending does leave quite a bit to be desired, and unless you're 100% sure that the cast members you know are going to give you 100% entertainment value, this may be worth trying a rental before you buy.
That said, one thing that does push this DVD back from being a rental to a well-worth-a-purchase, if you are a fan of it, is the packaging of the Special Edition, which is an absolutely gorgeous little boxset, containing not only the 2-disc DVD, but also a 48-page graphic novel.
---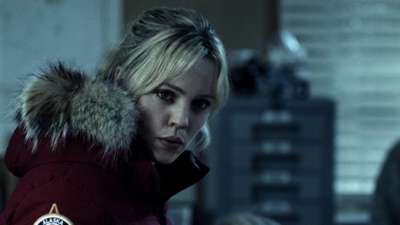 Presentation-wise, we get a 1.85:1 open-matte print, like Black Sheep. Again, why does the UK not get to indulge in a sumptious 2.35:1 widescreen print and just get half-measures instead? Some scenes are clearly open-matte where you can see people standing in a frame that could be comfortably cropped top and/or bottom – although mostly at the bottom – in order to strike a 2.35:1 segment from that scene, but there are others where faces are filling the screen, or where the print doesn't look particularly fantastic because it looks a little imbalanced as a result of being 'zoomed in' to 1.85:1, where it's clear that those should've been framed at 2.35:1 and you're losing out.
The Super 35 format would suit those channels which will crop to 16:9, but those are becoming less in number now that Sky's channels all show films in 2.35:1, where one was filmed that way, and more recently Channel 4 (and their group of channels) are now doing this, as did BBC3 with the screening of The Indiana Jones Trilogy in February and March this year, so the rule of thumb – and to avoid any confusion – should be, that if it was shot with an intended cinema ratio of 2.35:1, then present it on DVD that way and nothing less.
Also, occasionally on some scenes featuring a lot of dark colours, there appears to be some horrendous pixellation going on. It doesn't happen too often, but when it does it's there in spades for all to see. I've generally come across it when there's been fairly still shots involving one of the vampires stopping to look around for more 'food', although it does happen on indoor scenes such as when there's a close-up of Josh Hartnett in a loft almost an hour into the film so it's not some 'effect' to do with the vampires.
What doesn't attract any complaints is the sound quality. As well as a Dolby Digital 5.1 soundtrack, there's also a DTS 5.1 mix, which is the one I went for. As well as all the usual bangs, crashes, screams and gunshots you'd expect from such an actioner, there's some wonderful uses of split-surround effects, either to indicate how some characters are clearly feeling a bit disorientated, and also for when the creatures are running about.
---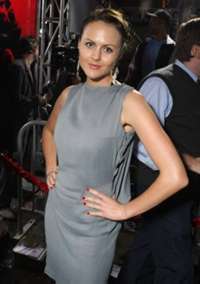 Aside from the audio commentary running alongside the main feature, the bulk of the extras come on a separate disc and consist of 8 featurettes, all of which do exactly what they say on the tin and are presented in 16:9 anamorphic but with no subtitles:
Pre-Production (7:35): Key crew members including the director and writers give their views on the film and how they filmed in New Zealand, including how part of the set was built inside an abandoned equestian centre where they had to dig down into the floor to get more height on the ceiling! Script meetings, production meetings and costume design are also covered here.
The Vampire (5:05): How should they walk, how should they attack, how should they bite? As for their talking, head vampire John Rawls tells us this comes from tribal accents. This is also the first feature where key cast members get to have their say, including Josh Hartnett.
Building Barrow (4:24): The designing of the town, including some 2.35:1 shots that look brilliantly-composed, so it's a shame we missed out on those, even though I can see from the end result that we got the open-matte shots in those cases.
The Cast (8:13): One good thing about the film is that even with so many characters, most of them are involved in key moments even if those are short-lived (literally, in some cases), so the cast members involved get to talk about their time onscreen. These are accompanied by 2.35:1-framed film clips which proves how much better those scenes would've looked, as they're better-composed and have tighter framing.
The Look (5:56): The director of photography, and others, tell us how they created the… well, as it says, look of the film.
Blood, Guts & Nasty #@$&! (6:32): Decpitated heads, scratch marks aplenty, squashed heads, blood spurting out… So many gross-out moments that need to look realistic and here's how they achieved those.
Night Shoots (5:07): Well, that's when vampires come out at night, but they don't need 20,000 cups of coffee throughout the course of production to keep themselves awake. Oh, hang on, I guess the actors *playing* the vampires do, but the real vampires don't.

At the start of production, everyone's smiling. By the end, they want to die. How ironic for a film that involves so much death :)

Stunts (7:14): Vampires tend to throw themselves about a lot, but human beings need a bit of help in doing that, and this is how it's donefor several key scenes, including one where two stunt people are used for the same vampire, to get the right shot and timing as one person couldn't be that energetic!

There's also the stunts featuring the little vampire girl, who would even give Supernanny Jo Frost a run for her money!
Pre-DVD letterboxed trailers for The Tattooist, Awake, Unearthed, Brooklyn Rules and Hot Tomale are also included but these should only be in the extras menu, not before the main DVD menu.
The film contains 16 chapters, so it could do with more as it runs for almost 2 hours and I work on a rule of thumb of one per 5 minutes, the main menu has some subtle animation and is scored with a looped piece of music from the film and subtitles are available in English for the hearing-impaired. Some subtitles which aren't picked up in a diner scene, are strangely replaced with stating that a character's muttering indistinctly, even though I could hear them behind the tense sound effects as "Me too… and Lucy would have to clear up after Eben kicked your ass".
---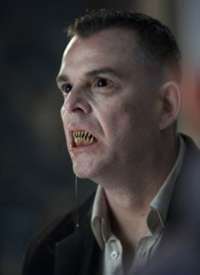 Finally, a mention for 30 Days of Night: Blood Trails which is a 7-part mini-series, running for almost 27 minutes in total, that's presented on a separate DVD and is based on the original graphic novel and set in New Orleans. The show follows George (Andrew Laurich), a young addict who makes a living by looking for covert information for vampire hunter Judith (Marilyn Johnson). George wants one final big payday before leaving town forever, but with all his contacts turning up dead, will he make it out alive?
Blood Trails isn't at all scary but it passes the time, usually with a lot of shrieking and buckets of blood all over the place. Each brief episode also contains a "Next time on…" piece, but if you're watching them consecutively anyway then do you need to sit through that? It'll only spoil what's to come. The first 30 seconds of each one can be skipped as well as it's the same opening segment. In the end, this is like a prequel to the film and while it's worth a look, it's not essential to any understanding of the film.
There's also an 11-minute 'behind the scenes' piece on this disc with comments from creator Steve Niles, Writer/Co-producer Ben Ketai, Makeup Effects Artist Kelly Golden and a few of the key cast members.

---
FILM CONTENT
PICTURE QUALITY
SOUND QUALITY
EXTRAS
6
8
10
4
OVERALL
7
---
Detailed specs:
Cert:


Running time: 96 minutes
Studio: Icon Home Entertainment
Cat.no: ICON 10131
Year: 2007
Released: April 14th 2008
Region(s): 2, PAL
Chapters: 16
Sound: Dolby Digital 5.1, DTS 5.1
Languages: English
Subtitles: English for the hearing-impaired
Widescreen: 1.85:1 (Super 35)
16:9-Enhanced: Yes
Macrovision: Yes
Disc Format: DVD 9
Director: David Slade
Producers: Sam Raimi and Bob Tapert
Screenplay: Steve Niles, Stuart Beattie and Brian Nelson
Music: Brian Reitzell
Cast:
Sheriff Eben Oleson: Josh Hartnett
Stella Oleson: Melissa George
Marlow: Danny Huston
The Stranger: Ben Foster
Beau Brower: Mark Boone Junior
Jake Oleson: Mark Rendall
Denise: Amber Sainsbury
Deputy Billy Kitka: Manu Bennett
Iris: Megan Franich
Doug Hertz: Joel Tobeck
Lucy Ikos: Elizabeth Hawthorne
Carter Davies: Nathaniel Lees
Wilson Bulosan: Craig Hall
Issac Bulosan: Chic Littlewood
John Riis: Peter Feeney
Ally Riis: Min Windle
Kirsten Toomey: Camille Keenan
Peter Toomey: Jack Walley
Helen Munson: Elzabether McRae
Tom Melanson: Joe Dekkers-Reihana
Paul Jayko: Scott Taylor
Gus Lambert: Grant Tilly
Malekai Hamm: Pua Magasiva
Aaron: Jared Turner
Gabe: Kelson Henderson
Adam Colletta: John Wraight
Jeannie Colletta: Dayna Porter
Michelle Robbins: Kate S. Butler
Frank Robbins: Patrick Kake
Larry Robbins: Thomas Newman
Gail Robbins: Rachel Maitland-Smith
Little Girl Vampire: Abbey-May Wakefield
Zurial: John Rawls
Arvin: Andrew Stehlin
Reviewer of movies, videogames and music since 1994. Aortic valve operation survivor from the same year. Running DVDfever.co.uk since 2000. Nobel Peace Prize winner 2021.