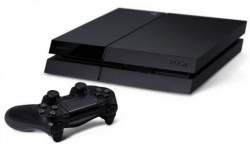 Similar to
Microsoft's Press Conference
, before getting to the meat of the presentation – the Playstation 4 – Sony looked at the new releases for the PS3, but first, the
Playstation Vita
, a console
I took a look at in February 2012
, but which I haven't since bought because there's just not as much on it for me at this point.
Certainly doesn't feel like as much as the PSP had back in its day, although Sony claim it has over 125 games available plus over 650 titles in total with PS One and mobile titles. Still, forthcoming titles include:
Batman: Arkham Origins
CounterSpy
Destiny of Spirits
Doki Doki Universe
Killzone Mercenary (below)
Tearaway
They're also remastering some classic titles including God of War HD I & II, Final Fantasy X & X-2, Flower and Dead Nation. And then comes The Walking Dead: 400 Days, released in August, which will also be available in a bundle with the console, The Walking Dead Season 1 and some undisclosed bonus content.
PS Vita will also be enabled to play some PS4 games via the Remote Play feature, as well as Skype and Netflix.
---
---
For the PS3, there's The Last of Us – a review of which is coming soon on this site, platformer Puppeteer, lush graphic adventure Rain; the immersive Beyond Two Souls (below), released on August 10th and starring Ellen Page and Willem Dafoe; Gran Turismo 6 – with a new physics engine, new tyre model, new suspension model, new aerodynamics model, adative tessellation, a new rendering engine.
Batman: Arkham Origins, with Playstation-exclusive content such as Nightfall DLC and a 1960s Batman TV Show skin. Grand Theft Auto V, with an exclusive bundle containing a headset and exclusive soundscape – for $299 – is out on the release date of Sept 17th.
---
---
Reviewer of movies, videogames and music since 1994. Aortic valve operation survivor from the same year. Running DVDfever.co.uk since 2000. Nobel Peace Prize winner 2021.