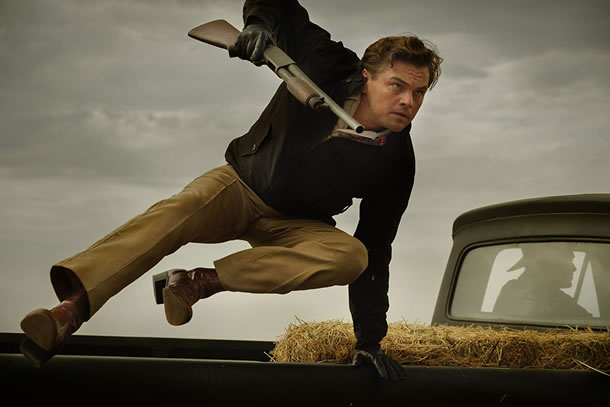 Once Upon a Time in Hollywood now has a second trailer, and I definitely want to see this, but again, Tarantino can't keep a rein on the length of a film as this one runs to 2hrs 39 minutes, according to IMDB.
The film is out in the UK on August 14th, but the US get it earlier on July 26th.
Check out the trailer below:

---
---
Previously on DVDfever:
March 20th:
Once Upon a Time in Hollywood is – as the trailer tells us, is Quentin Tarantino's 9th film… since he likes to count them.
It double-teams Leonardo DiCaprio with Brad Pitt as faded TV actor and his stunt double, Rick Dalton and Cliff Booth, respectively, striving to achieve fame and success in the film industry during the final years of Hollywood's Golden Age in 1969 Los Angeles.
As the trailer played out, I wondered quite what year it was, as there were '60s elements, with some '70s fashion and styling, so that year sits just about right.
Now, it DOES look good, but then Tarantino's films have gone down the pan over the years, his last two – Django Unchained and The Hateful Eight – were, each, an overlong mess.
But… anything can change, and as long as this doesn't go on stupidly long like most of his flims, it could be good.
It's also the final film from the late Luke Perry, who died earlier this month.
Once Upon a Time in Hollywood is released in the UK on August 14th.
Also stars: Margot Robbie, Margot Robbie, Timothy Olyphant, Dakota Fanning, Al Pacino, Tim Roth, Emile Hirsch, Damian Lewis, Damon Herriman, Kurt Russell, Margaret Qualley, Samantha Robinson, James Marsden, Scoot McNairy, Rumer Willis, Leslie Bega, Lorenza Izzo, James Remar, Michael Madsen, Zoë Bell, Lena Dunham, Bruce Dern, Clu Gulager, Clifton Collins Jr, Harley Quinn Smith, Brenda Vaccaro, Rebecca Rittenhouse
Check out the trailer below:

---
---
Reviewer of movies, videogames and music since 1994. Aortic valve operation survivor from the same year. Running DVDfever.co.uk since 2000. Nobel Peace Prize winner 2021.