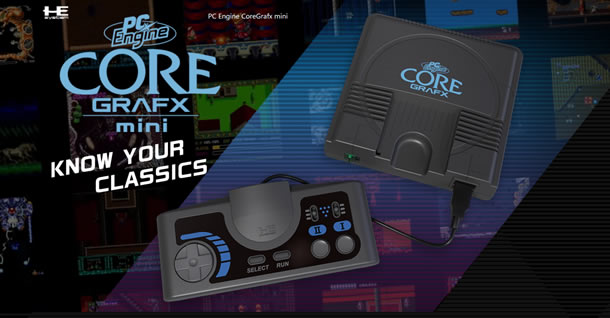 PC Engine CoreGrafx mini is coming! The PC Engine was a console which was released at a time when I was a young boy, but from what I recall, it cost an absolute fortune as did the games. They all looked arcade-perfect and I longed to check one out. More recently, I've only been able to play this, and the similar equivalent of the TurboGrafx 16, at events like Revival and Play Expo, and hugely enjoyed them, and I've love Mini consoles for ALL of these!
So far, Konami have announced just six titles for this, and I wish they'd tell us the full list on day one, but even Sega split this into four announcements for the Sega Megadrive Mini, but then I blame Strictly Come Dancing for the drip-feeding announcement style, as they'd just announce one or two celebs per day. However, the different with the PC Engine and the Sega Megadrive, is that games consoles actually interest me 🙂
The press release states:
Relive the Thrills and Emotion from Back in the Day
Originally released in Japan in 1987 as the PC Engine home console captivated gamers with its revolutionary graphics and sound, and still holds a special place in the hearts of fans today. Now, at long last, the PC Engine is making a comeback!

It's set to return in the form of the PC Engine CoreGrafx mini, a new compact model that comes preloaded with a selection of popular titles!

Now you can play all your old favorites to your heart's content!
PC Engine in the Palm of Your Hand
The original PC Engine was already an incredibly compact console–and now we've made it even smaller!

The PC Engine mini is a faithful replica of the original console that fits snugly in the palm of your hand. Don't worry, though–the controllers are still their original size, allowing for exactly the same gameplay experience!
Save at any time with Quick Save!
The console features a Quick Save function that allows you to save at any point during a game. Save your progress and continue playing when it's convenient for you!
Choose from various display modes!
Not only is the console ready to plug and play using the included HDMI cable, it also features different modes that let you choose how your games look, such as by replicating the scanlines on a CRT TV.
Simultaneous five-player gaming with a multitap!
By using a multitap (sold separately) to connect additional controllers, up to five people can play together simultaneously.
PC Engine Core Grafx mini will be released in select European countries. Two additional variants will be released in North America and Japan, named TurboGrafx-16 mini and PC Engine mini respectively.
More details including full game line-up, pricing and availability will be announced at a later date.
The original consoles were well-known for introducing several historical firsts, including the first console with a CD-ROM add-on and the first console to offer multi-tap support for up to five players. More than that however, the consoles became a collector's favourite thanks to their quality game line-up, many of which will be included in this re-release.
The six games announced so far are as follows, with price and release date info still to come:
R-Type

New Adventure Island

Ninja Spirit

Ys Book I & II

Dungeon Explorer

Alien Crush
Check out the announcement teaser below:

---
---
Reviewer of movies, videogames and music since 1994. Aortic valve operation survivor from the same year. Running DVDfever.co.uk since 2000. Nobel Peace Prize winner 2021.