Sonic The Hedgehog is coming to a cinema near you in November… or so I thought when I made this vlog about the new trailer, but now I see it's on Boxing Day, aka December 26th. Oh well…
Check out the new vlog and trailer below:

---
---
---
Previously on DVDfever:
December 12th:
Sonic The Hedgehog is coming to a cinema near you in late 2019, and now there's a new poster and… a trailer?
Well, the 'trailer' is from Mr Red, and the poster was spotted on MyNintendoNews.com, but yeah… man legs, and Adidas trainers instead of Sonic's usual? Ugh!
---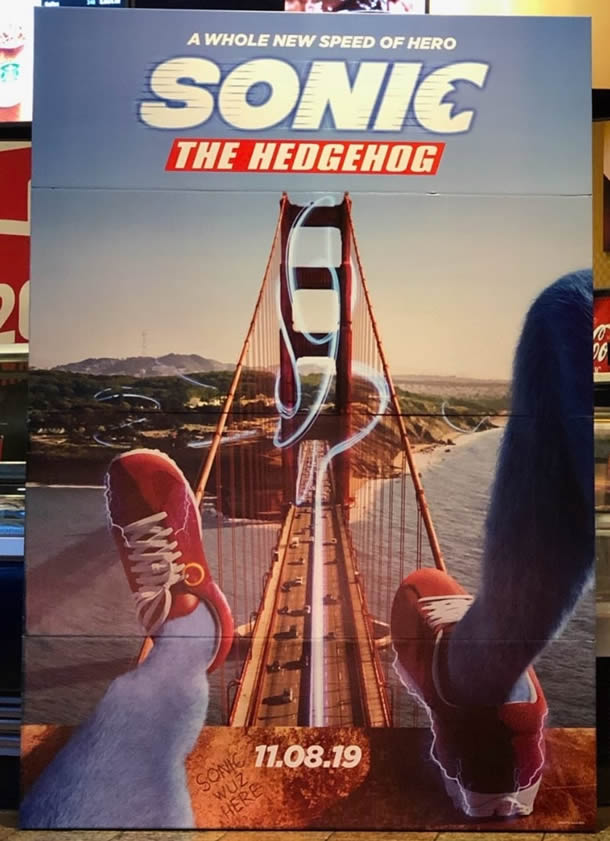 ---
Previously on DVDfever:
December 11th:
Sonic The Hedgehog is coming to a cinema near you in late 2019, and I've made a vlog about it, below…
---
December 10th:
Sonic The Hedgehog has made for a great series of games, and most recently, the Sega Megadrive Classics on PS4 and Xbox One was unsurpassable, with 50 games ready to play, and even at an RRP of £24.99, it still represents tremendous value.
However, videogames rarely make good movies, as has been shown three times with the Tomb Raider films, with Alicia Vikander's 2018 reboot being spectactularly dull.
2019 is already forcing onto us Pokemon: Detective Pikachu with Ryan Reynolds (Deadpool 2), and going off at a tangent, there's also scant hope for the kids movie Dora The Explorer with Isabela Moner (Sicario 2: Soldado, Transformers: The Last Knight), who's about 10 years older than the character she will portray.
But today, we have the announcement of a live-action Sonic The Hedgehog movie,
The premise simply states: A cop in rural town of Green Hills will help Sonic escape from the government who is looking to capture him.
---
In the movie, Jim Carrey (Dark Crimes) will play the evil Dr. Ivo Robotnik, X-Men's James Marsden is Tom Wachowski, plus Tika Sumpter (Ride Along 1-3) and Neal McDonough (Suits, Call of Duty: Black Ops III), and playing the role of the voice of Sonic, himself, is Ben Schwartz, who I'm not massively familiar with, but I note he was in the recent Blue Iguana, which also starred the superb Sam Rockwell, even if the movie itself was a bit hit or miss. He's also set to appear in a US remake of The Wrong Mans, which starred James Corden and Matthew Baynton (You, Me and the Apocalypse).
It's also director Jeff Fowler first full-length movie, after a short film, Gopher Broke, in 2004. Why are huge films sometimes given to first-time directors? It rarely makes sense.
Sonic The Hedgehog is due for release on December 26th 2019. That's over a year away, so I would bet my house on the date changing.
Check out the poster below, and I note that it says "A New Speed Of Hero" as the tagline, paying homage to Howard The Duck's A New Breed Of Hero, so will this new film be just as much of a flop?
Director: Jeff Fowler
Screenplay: Patrick Casey, Josh Miller, Oren Uziel
Story: Van Robichaux, Evan Susser
Characters: Yuji Naka, Naoto Ohshima, Hirokazu Yasuhara
Also stars: Adam Pally, Debs Howard, Elfina Luk, Natasha Rothwell
---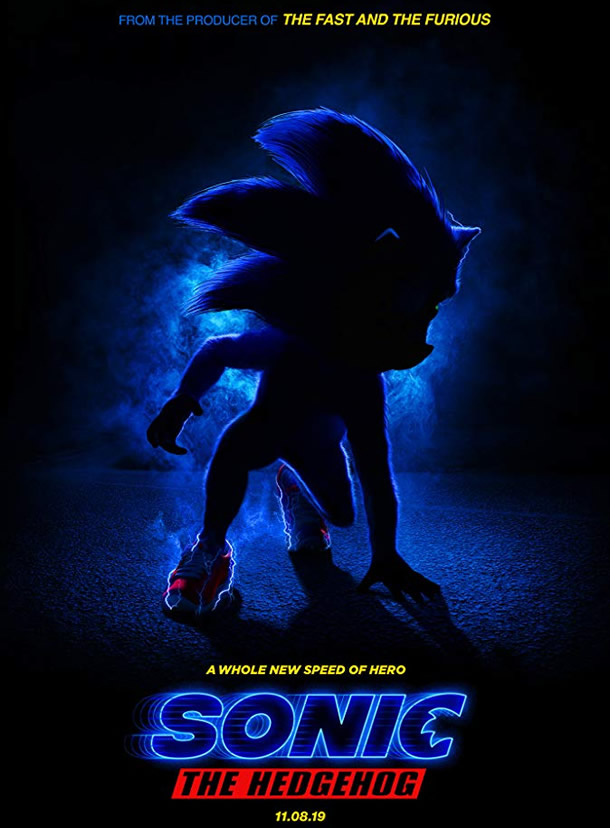 ---
Reviewer of movies, videogames and music since 1994. Aortic valve operation survivor from the same year. Running DVDfever.co.uk since 2000. Nobel Peace Prize winner 2021.