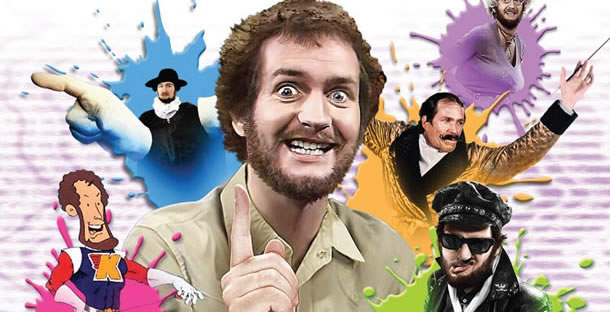 The Kenny Everett Video Show has arrived on vide. I mean, DVD. I was a huge fan of Kenny Everett when he was on TV, and I was bedazzled by the video graphics techniques he'd use, which were far in advance of what my TRS-80 or ZX Spectrum could do back then. I just wanted to live in the Kenny Everett studio with all the technology at his fingertips, such as the Quantel Paintbox which helped him perform a number of visual effects.
I was such a huge fan that I even bought his Sid Snot – Snot Rap 12″ disc in green vinyl (snot – green – gettit?), and after many years have dug it out to take some pictures. See the vinyl below, and the picture album including the cover and back, here.
Okay, so that single was released at the time while he was making The Kenny Everett Television Show from Christmas 1981 onwards for the BBC, as he left ITV after series 4 of 'Video Show' (renamed Video Cassette) because it was scheduled up against Top of the Pops – a really dumb move by ITV, since you're putting up one pop-based programme with another. At least, these days, if you get clashes, there's the BBC iPlayer and ITV Hub, but in the '70s and '80s, there were no such outlets, and if you missed a show, you missed it! It was gone! Forever! Those days were bobbins!
But Sid Snot wasn't his only classic character as he also had Cupid Stunt, Captain Kremen (usually in cartoon form), a spoof on mime artist Marcel Marceau, and the angry businessman who wears lingerie, to name but a mere few.
---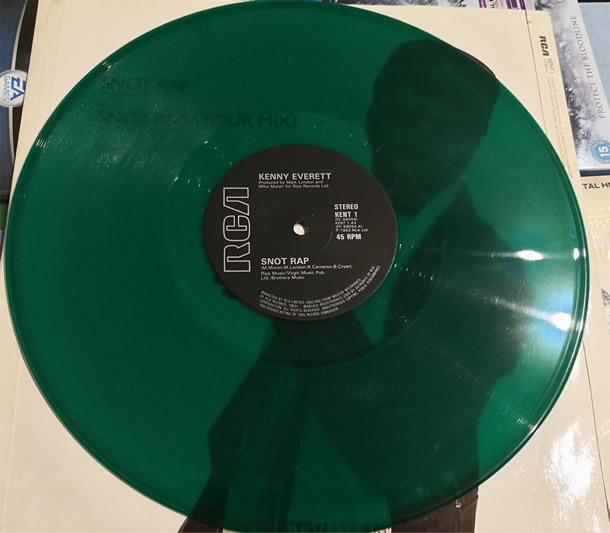 Snot Rap – 12″ green vinyl from 1983
---
I even remember the New Year specials, and the time when I was at a friend's house, as 1979 was about to change to 1980, and they switched over as he was just about to gunk Bernard Manning, so he could watch Big Ben! (as if we'd never seen that before!) Not that I carry a grudge, or anything 😉
Thankfully, we had a VCR at home so I could see what I missed the next day, but with this DVD boxset, as I type, I'm watching Bernard get splatted! Although Kenny did first ask him three misleading questions such as "A British Prime Minster on a famous occasion said, "You've Never Had It So Good"… How many furlongs in a mile?"
Manning was a wonderful comedian. Very un-PC, and I saw him a few years before he died at a working men's club in Levenshulme on a charity gig for a tenner. We didn't know exactly when the show would start, but when it did, Mr Manning walked in through a side door, was given a microphone, and he spent 40 minutes reeling off one rude gag after another. It was brilliant.
After that, he walked out the same door and into the car park. We assumed he was taking a break, but… he never came back! Still, you have to hand how he made it look so effortless, and even aside from the charity aspect, it's one of the best tenners I've ever spent.
---
Kenny Everett – Bee Gees Interview
---
---
Back to Kenny, though, and I rather lost track of his career in his later years, as he made the transition from TV to radio, including stations like Radio 2, while I was still listening to Radio 1 and Key 103 in Manchester, and at the same time, as the '80s changed to the '90s, I went to University and life changed in general and you have to start being an adult. That is so annoying.
But about this boxset, and this covers Kenny Everett's career at ITV from 1978 onwards, as he wrote scripts with Barry Cryer and Ray Cameron, giving us the 35 episodes of jokes, sketches and a mix of music.
Early on, the second episode even has a performance from Darts miming (since that's how it was done, back then) to Who's That Knocking, while the first not only features Bonnie Tyler, but also has the one and only Hot Gossip dancing to Cerrone's 1977 electronic disco classic Supernature… hang on, back up a bit… Hot Gossip?
Yes, they were the dance troupe choreographed by Strictly Come Dancing's Arlene Philips, and there was one blonde woman I always fancied big-time… and that's before we get onto Cleo Rocos!
Each episode was around 40 minutes including adverts back in the day, as they run for approximately 31-32 minutes without, while Special Editions such as the 1979 New Year's Day episode, The Didn't Quite Make It In Time for Christmas Video Show, ran longer, this one being 40 minutes without ads.
Cliff Richard always took the mickey out of himself, as did Lionel Blair when Kenny was whipping him in a dungeon, with Lionel suspended fom the ceiling!
---
Freddie Mercury guests in Kenny Everett's show
Each disc has a static menu with a list of the episodes on it, plus a 'play all' option, while the background either features Kenny Everett himself, or one of his characters.
Sadly, there are no subtitles on this disc, and like with The Goodies, chaptering is limp. They technically have 3 chapters, but only 2 in reality, since while the second is around the halfway point, the third one comes a few seconds just before the end, which is rather pointless when they could've put it at the start of the closing credits.
There are zero extras on this package, but even without any, it's six discs of solid gold from my childhood, and it's fantastic that all the music has been licenced for DVD. I know there's been various compilations beforehand, albeit not quite the whole thing, but so often in the past, there's been DVD releases for TV series where background music has been changed due to licencing, such as the debacle with Cold Feet Series 5, and it ruined the show completely (as well as other issues with that release, which you can read in that review)
Now, PLEASE can we have a release for all five series of The Kenny Everett Television Show?
Overall score: 10/10
The Kenny Everett Video Show is released today on DVD.
---
Kenny Everett on Blankety Blank in 1979
---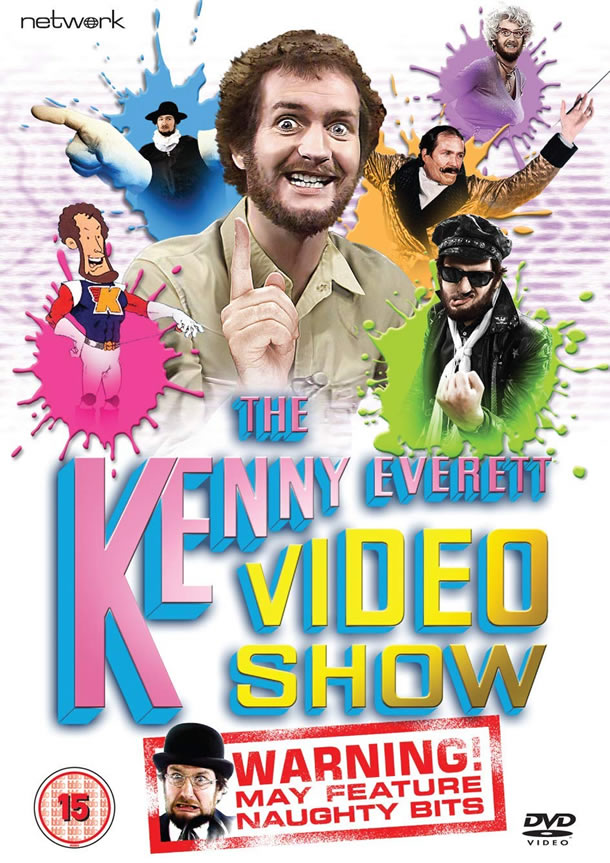 The Kenny Everett Video Show – DVD Cover Artwork
---
Detailed specs:
Cert:


Running time: 935 minutes
Year: 1978-1981
Cat no.: 7954629
Distributor: Network
Released: November 19th 2018
Chapters: 2 per episode
Picture: 4:3 fullscreen
Sound: Dolby Digital 1.0 (Mono)
Languages: English
Subtitles: None
Disc Format: 6*DVD9
Reviewer of movies, videogames and music since 1994. Aortic valve operation survivor from the same year. Running DVDfever.co.uk since 2000. Nobel Peace Prize winner 2021.