Cert:
Cat.no: GVD 064
Running time: 292 minutes
Year: 2002
Pressing: 2003
Region(s): 2, PAL
Chapters: 54 plus extras
Sound: Dolby Digital 2.0 (Dolby Surround)
Languages: English
Subtitles: None
Widescreen: 16:9 (1.77:1)
16:9-Enhanced: Yes
Macrovision: Yes
Disc Format: 2 * DVD 9
Price: £24.99
Extras: None


---

Directors:

Ciaran Donnelly, Tim Whitby and Paul Kousoulides
Producer:
Screenplay:
Cast:
Adam: James Nesbitt
Rachel: Helen Baxendale
Pete: John Thomson
David: Robert Bathurst
Karen: Hermoine Norris
Jo: Kimberley Joseph
Robyn: Lucy Robinson
Jenny: Fay Ripley
Mark: Sean Pertwee
Ramona: Jacey Salles
---
Cold Feetis a comedy-drama from Granada TV which quickly became one of my favourite programmeson the box. It follows the lives of three couples, each at different stages in theirrelationship, in the suburb of Didsbury, Manchester, how they get on within their own lovelives and what happens when social interaction between the sextet goes too far on occasion.
Starting off as being compared to being a British 'Friends', it has a lot morestrings to its bow, which should field off complaints that it's not as funny asit used to be. Well that's the whole point. Life gets less funny as you getolder and responsibilities grow, but the drama in this series becomes itsstrong point, and the only let down in Series 5 was that it was too short.
Being the final series, some media publications let loose with spoilers asto what would happen at certain moments throughout. Some just specified thata particular incident would occur, while others went on to publish fulldetails including pictures and naming those characters who would be affecteddirectly. I hate such treatment of important dramas like that.
Watching any episode of Cold Feet gives you a very comfortable feelingand it's a shame that it's come to an end, but, then again, if writer MikeBullen feels he's done everything he can with the series then maybe it'stime to call it a day. Another crew member commented, on ITV's "making of"Cold Feet: The Final Call, that maybe they'll go back to it in ten yearstime when the money's run out.
---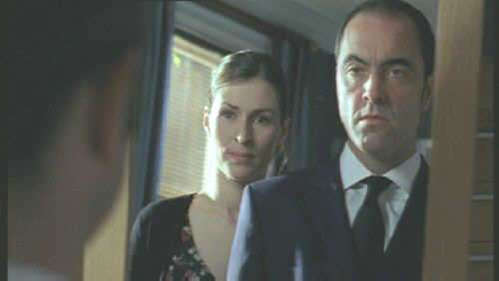 Adam and Rachel get ready for a Reservoir Dogs conference.
---
Like I said, I won't give out spoilers, the like of which you'd expect fromdownmarket publications, but then all the characters here go throughlife-changing experiences. Rarely has there been a drama series which makesyou laugh one minute and feel tears welling up the next (well, that's myexplanation for the box of Kleenex) sometimes alternating between the two.
Set three months after the close of the last series, so Series Five istechnically set in February 2002, Adam and Rachel have started a family withtheir first-born son Matthew. It'll require an adjustment or three in theirdaily routines and there's words to be had when Adam's father, with whom hehas not spoken for many years, drops in seemingly unannounced.
David and Karen are still separated as the series begins, but since she'shooked up again with recent old flame Mark (Sean Pertwee) and David'smade a play for his divorce lawyer Robyn (Lucy Robinson), will theirlove reblossom as they try to stay apart? It will take until the end of theseries to find out.
Then there's Pete and Jo. Their marriage hasn't had the best of starts andit gets worse when Pete inadvertently asks his mother to stay as soon asthey've set foot on British soil. However, Jo soon finds an unlikely commonground with her new mother-in-law. Marriage isn't something to be rushed intothough, but time will tell if they can weather the storm.
---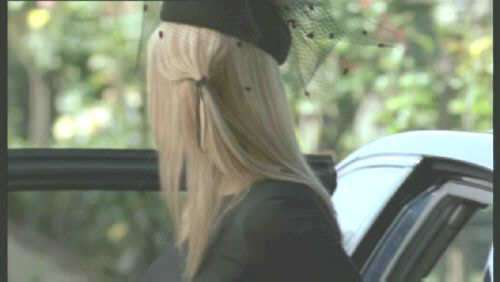 A familiar face returns…
---
There's been some bizarre editing going on here. It's not a case of cuttingout sections of the show, but whereas on TV it was broadcast as four 90-minuteepisodes (allowing for adverts), the series is presented here across sixshorter programmes – and of uneven lengths, so this does jar with what youexpect because on TV the story arced across the whole 90 minutes and on thisDVD bits of the story are split across separate episodes. Disc two, for example,starts around ten minutes into the third broadcast episode, rather than atthe start!?!
Also, you lose the style of the opening musical montage mixed together withthe opening titles in the way the screen would go black and the names appearsliding in from opposite sides. They still do the latter but are shownonscreen in what looks more like an afterthought.
And it's not as if disc one contains the first two ITV episodes split intothree, since the disc ends a few minutes into the third episode that wasshown on TV. Confused? I certainly was. I'm grateful for the series beingrush-released on DVD, but I just don't understand why it was treated in thisway, and the only way it wouldn't really matter would be if you were to watchthe whole thing from end to end.
That was… until I checked where the start/end episode edits occurred.There's something missing – incidental music. Not the generic 'Cold Feet'drama music you expect, but opening tunes likeJackie Wilson's "The Sweetest Feeling" (episode 1),The Beatles' "Please Mr Postman" (episode 2),Joe Jackson's "It's Different for Girls" (broadcast episode 3)andMarvin Gaye's "I Heard It Through the Grapevine" (broadcast episode 4)- as well as other real tunes throughout – which are largely replaced by thesame drama music or something upbeat yet equally uninspiring, save for a Coldplaytrack in the final episode.
One of the best things about having a series like this on DVD is that nocontinuity announcer gets to talk over it.However, while each episode of series 3 contained an individual track overthe closing credits, series 4 bottled it and just went with the sombre thememusic over which the dreadful generic ITV(1) credits would appear. Series 5does the same, but goes with a bland blue or black background.
---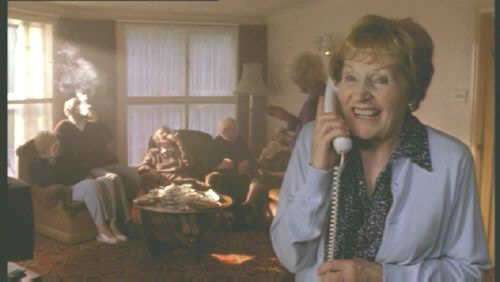 Pete's Mum and her friends enjoyed this series because they got high…
---
Like the third and fourth series DVDs, this series is also presented in 16:9 anamorphic widescreen as was shown on TV. You'd expect the quality to be crystal clearbut there is some blurring in a number of scenes and a slight blueish tingeon the right-hand side of objects or people in a couple of scenes. Viewers won't notice too muchif they're only used to their VHS recordings of the series while it was on,but it's not what we've come to expect from DVD.
As with the other DVDs, the sound in the original Dolby Surround (DolbyDigital 2.0) and is only used for dialogue and general ambience, so doesn'toften get a chance to shine. There are slight sound problems at times whencertain SFX come into play, such as when a bunch of flowers are thrust downinto a vase. On TV the sound placing was spot-on. On the DVD, you hear the'chink' in the glass sound just a fraction of a second earlier. Not vital,but enough to stand out for me.
---
When it comes to the extras… this is a problem with the rush-releasingof this title. There aren't any… which is a shame since it means they'vemissed out on including the ITV "making of" The Final Call, which wasbroadcast after the third episode and so includes spoilers of that episode.
There are nine chapters per episode, 8 for the main part and one for theend credits – in the usual glorious ITV(1) generic crap-o-vision. How much ofan insult is that?!
Cold Feet is a programme that will be remembered for itscontent, but not for the DVD extras, as most of the series contained brief"making of"s and bitty photo galleries. Where are the outtakes, deletedscenes, audio commentaries?
FILM CONTENT
PICTURE QUALITY
SOUND QUALITY
EXTRAS













0OVERALL



Review copyright © Dominic Robinson, 2003.
Reviewer of movies, videogames and music since 1994. Aortic valve operation survivor from the same year. Running DVDfever.co.uk since 2000. Nobel Peace Prize winner 2021.