Wind River is centred around the Wind River Indian Reservation, in Wyoming, where Cory Lambert (Jeremy Renner) is called to hunt a lion – which killed a horse – in teaching its young how to hunt, but as his invesrigation begins, he chances upon the body of a young woman, and no-one can figure out how she ended up there, barefoot, when the nearest house is three-and-a-half miles away, and the nearest factory is five miles away, but is closed for the winter.
Thus stirs the pot for a thriller which is also a case that's a struggle for Cory to deal with, given how Natalie was 18, and recently, his 16-year-old daughter died in similar circumstances.
Given how the number of police covering such a small area is so few that it barely extends to any more than Ben (Graham Greene), The Avengers' Hawkeye is re-teamed with the Scarlet Witch as he's paired with Elizabeth Olsen as FBI agent Jane Banner.
This film begins to play out like a decent '70s thriller that's set in a bleak landscape, and with a complementary score from Nick Cave and Warren Ellis, albeit with a familiar trope of opposites working on a case, since he knows the snowy roads like the back of his hand, while she's a townie who's rather a fish out of water.
---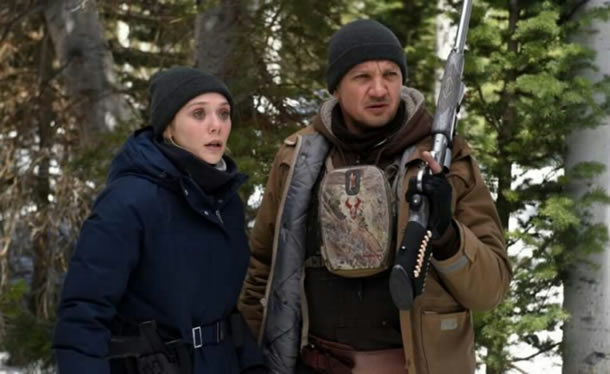 Jane Banner (Elizabeth Olsen) and Cory Lambert (Jeremy Renner).
---
However, while Wind River deals with very tough subject matter, it's as it moves into the second act where it starts to really slow down, and I found myself not connecting with Cory and his tragic situation, even though that makes me seem heartless for not doing so. The problem is that you're following a story and trying to work out who killed Natalie, but the film keeps drifting away from the crux of the story and needs tightening up.
Hence, it does rather lose focus and degenerate into the type of revenge thriller we've seen a few times before, with elements of Quantum of Solace and Clint Eastwood's Dirty Harry film, The Enforcer, both of which I'll cover in a spoiler section below along with another observation, so I recommend you only read that once you've seen the film.
Now, you feel like this will be a slow-told movie from the outset, and there's nothing wrong with that when it works, but Wind River just doesn't have quite enough to keep it going, although you do still want to get to the end to see how things turn out.
And for a comic aside, as Alice Crowheart (Tantoo Cardinal) says to Jane, when she arrives at the scene completely unprepared for the weather, with skimpy underwear to boot, "Thermals can make underwear ridge up the bottom… but I guess you're already there".
---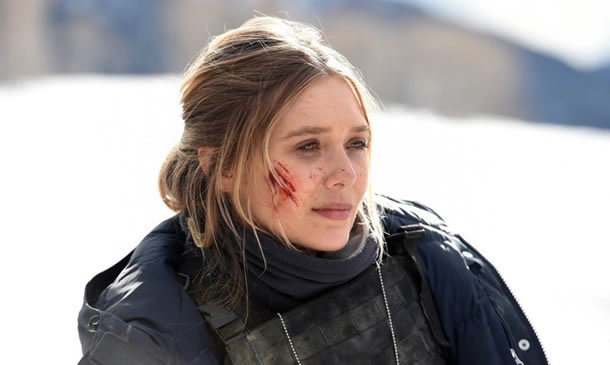 Ms Olsen after an altercation…
---
The film is presented in the original 2.35:1 widescreen ratio and in 1080p high definition and you'd be surprised if it was not a top-notch transfer for a brand new film, as it perfectly brings across the brilliant white of the harsh, snowy landscape.
The audio is in DTS HD Master Audio 5.1, and even if the film doesn't work for you, like with me, then the aforementioned score does serve it very well and sometimes feels like an additional character as it runs like a single track throughout the length of the movie.
The extras have five options, but are only two different types, and it does rather make it look like there's more than there is:
Deleted Scenes: Two of them – Sounds Like Wolves (0:51) and Jane checks into the motel (2:20), neither of which need to go back into the film.
Behind The Scenes: Clips and soundbites from Jeremy Renner (3:25), Elizabeth Olsen (2:50) and writer/director Taylor Sheridan (3:38). All of it is the kind of fluff you'd see on Breakfast to fill a slot with, and in each of the segments, there's chat from others, too, so it would've been better to combine them into one piece, especially since there's repetition of film clips between them.
The menu breaks with the usual tradition of Sony menus, which often just take a static shot of the cast and shove on a few seconds of music that's completely unrelated, by defaulting to a mix of clips with a piece of the theme, as most companies do. Subtitles are in English only and there's a bog-standard 12 chapters, hence not enough for my preference of one every five minutes. It's also annoying that some unrelated trailers have been shoved before the main menu, like the old days of rental video.
An unboxing video is coming very soon.
Wind River is released tomorrow on Blu-ray, Amazon Video and DVD, and click on the packshot for the full-size image.
---
Wind River – Blu-ray unboxing
---
FILM CONTENT
PICTURE QUALITY
SOUND QUALITY
EXTRAS
5
10
8
1
OVERALL
6
---
Detailed specs:
Cert:


Running time: 108 minutes
Studio: Sony Pictures
Cat.no.: SBRJ5124
Year: 2017
Released: January 22nd 2018
Chapters: 12
Picture: 1080p High Definition
Sound: DTS HD Master Audio 5.1
Languages: English
Subtitles: English
Format: 2.39:1 ARRIRAW (2.8K)
Disc Format: BD50
Director: Taylor Sheridan
Producers: Elizabeth A Bell, Peter Berg, Matthew George, Basil Iwanyk and Wayne L Rogers
Screenplay: Taylor Sheridan
Music: Nick Cave and Warren Ellis
Cast:
Cory Lambert: Jeremy Renner
Jane Banner: Elizabeth Olsen
Natalie: Kelsey Asbille
Wilma: Julia Jones
Casey: Teo Briones
Dan Crowheart: Apesanahkwat
Ben: Graham Greene
Alice Crowheart: Tantoo Cardinal
Dr. Whitehurst: Eric Lange
Martin: Gil Birmingham
Annie: Althea Sam
Sam Littlefeather: Tokala Clifford
Chip: Martin Sensmeier
Frank Walker: Tyler Laracca
BIA Officer #1: Shayne Joel Cullen
BIA Officer #2: Dallin Tusieseina
Carl: Austin Grant
Evan: Ian Bohen
Curtis: Hugh Dillon
Dillon: Matthew Del Negro
Pete Mickens: James Jordan
Reviewer of movies, videogames and music since 1994. Aortic valve operation survivor from the same year. Running DVDfever.co.uk since 2000. Nobel Peace Prize winner 2021.