Cert:
Cat.no: GVD 005
Running time: 398 minutes
Year: 2000
Pressing: 2001
Region(s): 2, PAL
Chapters: 64 plus extras
Sound: Dolby Digital 2.0 (Dolby Surround)
Languages: English
Subtitles: None
Widescreen: 16:9 (1.77:1)
16:9-Enhanced: Yes
Macrovision: Yes
Disc Format: 2 * DVD 9
Price: £24.99
Extras : Behind-the-scenes featurette, Photo Album


---

Directors:

Simon Delaney, Jon Jones and Tim Whitby
Producer:
Screenplay:
Mike Bullen and David Nicholls
Cast:
Adam: James Nesbitt
Rachel: Helen Baxendale
Pete: John Thomson
Jenny: Fay Ripley
David: Robert Bathurst
Karen: Hermoine Norris
Ramona: Jacey Salles
---
Cold Feetis a comedy-drama from Granada TV which quickly became one of my favourite programmeson the box. It follows the lives of three couples, each at different stages in theirrelationship, in the suburb of Didsbury, Manchester, how they get on within their own lovelives and what happens when social interaction between the sextet goes too far on occasion.It's definitely more than just a British 'Friends', despite the Helen Baxendale link.
After the release ofCold Feet: Series 1andSeries 2, this timeround it's another two-disc set containing the entire third series, a featuretteand photo album.
For this series the number of episodes filmed was increased to eight and the cast wangled a 'Friends'-style pay deal, in which they were paid per episodeto the tune of £20,000 apiece, plus the same again for repeat fees, whichnetted each actor £320,000 for the whole series. It's still a bit shortof the 'Friends' $1 million per episode for each of those six, but it's betterthan a kick in the eye.
David (Robert Bathurst) and Karen (Hermoine Norris) bring hometheir new-born twin daughters (played by triplets of varying sexes) and gothrough the trial of parenthood once again. Karen becomes entranced by thereappearance of an old flame, but once David gets involved withlocal politics with the stylish Jessica events lead to an affair which threatensto blow his marriage apart. The whole truth erupts at the worst possible time,during a dinner party. When this last episode was broadcast on ITV last year, Granadaalso chose the worst possible time to schedule a banner message across thescreen about their "Christmas Careline".
For Pete (John Thomson and Jenny (Fay Ripley), his affair inseries 2 split them apart forcing him to find alternative accommodation. Aftera few teething troubles as a lodger to a gay man, it looks like Pete's startingto strike up more than a friendship with David and Karen's nanny Ramona (JaceySalles). Meanwhile, Jenny gets herself back into the job market and fallsfor internet millionaire "bob.com" aka Robert (Coupling's Ben Miles).Personally, though, I felt the resolution of Pete and Jenny's situation was waytoo rushed by the end of this series, especially given what happened when thefourth one came along.
As for Adam (James Nesbitt) and Rachel (Helen Baxendale), theyspend most of the series dancing around the subject of marriage and what willhappen when they look to have their first child, starting off by looking afterDavid and Karen's son Josh, but their problems begin when Rachel finds out thatbecoming pregnant is not an option for her and her world turns upside down.As the series draws to a close and their wedding gets closer, Adam takes hisstag do in Ireland, back to his home town and comes face to face with hisfirst love, Jane.
One of the best things about having a series like this on DVD is that nocontinuity announcer gets to talk over it.Something clever was also added to every episode which wasn't present in thefourth series thanks to ITV(1)'s dreadful generic closing credits – the use ofa unique song at the end of each one, the tune identifying and complementingan event in that episode, such as when David gets a motorbike for his birthdayand rides off to the strains of Steppenwolf's "Born to be Wild".
---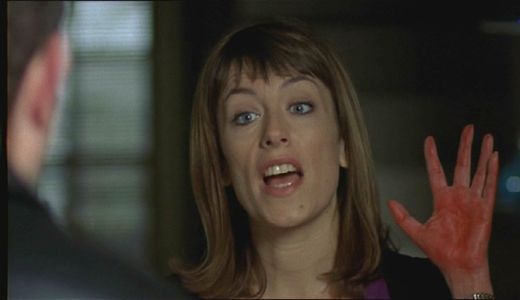 Pete had forgotten to buy Jenny the 'Heavy Flow' variety of tampon.
---
At least someone's listened to me this time round and the whole series hasbeen made available in 16:9 anamorphic widescreen, albeit with some hazyblocking in dark scenes which is annoying, but it's a fairly small price to pay.Sadly, according to Granada's PR dept, there are no plans to give the widescreentreatment to the first two series.
As with the first two DVDs, there are no major sound problems. It's in theoriginal Dolby Surround (Dolby Digital 2.0) and is only used for dialogue andgeneral ambience, so doesn't often get a chance to shine.
---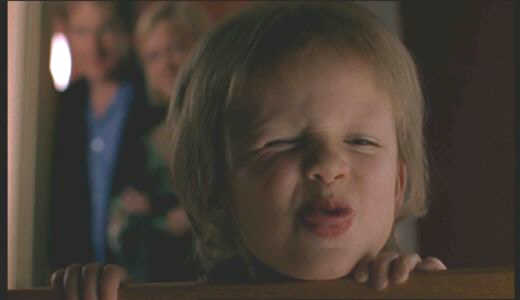 Josh voiced his approval at having new twin sisters.
---
Extras
:
The main supplement is a 14½-minute featurette which features chat withthe cast and crew (in 4:3 fullscreen), some clips from the series (in non-anamorphic16:9) and some out-takes (in anamorphic 16:9), so several different formatsthere.
Also included is a mere 10-picture photo album, but again the images are toosmall and come two to a page.
There's less chapters this time round – 8 to each episode instead of 12,totalling 64 – but a complete lack of subtitles in any language and whilethe menus are static, there's ambient incidental music in the background.
---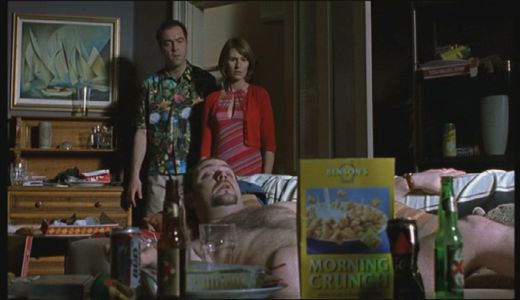 Pete. Naked. Not a pretty sight.
---
So, with the correct ratio this time, it's a marked improvement on the firsttwo series releases and a definite recommendation. Let's hope we don't have to wait a year for Series 4 toarrive on DVD – and that it's in its correct ratio too (and that Granada seesense and correct their earlier DVD mistakes!)
However, minus a million points to Granada for shoving in that series' sponsorUnited Airlines so that their advert appears just after inserting theDVD to start the series and again at the end of the last episode! Still, couldbe worse, could be viewed eight times per episode like when it was broadcast.
FILM CONTENT
PICTURE QUALITY
SOUND QUALITY
EXTRAS













OVERALL



Review copyright © Dominic Robinson, 2001.
Reviewer of movies, videogames and music since 1994. Aortic valve operation survivor from the same year. Running DVDfever.co.uk since 2000. Nobel Peace Prize winner 2021.