Cert:
Cat.no: GVD 036
Running time: 432 minutes
Year: 2001
Pressing: 2002
Region(s): 2, PAL
Chapters: 72 plus extras
Sound: Dolby Digital 2.0 (Dolby Surround)
Languages: English
Subtitles: None
Widescreen: 16:9 (1.77:1)
16:9-Enhanced: Yes
Macrovision: Yes
Disc Format: 2 * DVD 9
Price: £24.99
Extras: Cold Feet backstage


---

Directors:

Ciaran Donnelly, Tim Whitby and Paul Kousoulides
Producer:
Screenplay:
Cast:
Adam: James Nesbitt
Rachel: Helen Baxendale
Pete: John Thomson
Jenny: Fay Ripley
David: Robert Bathurst
Karen: Hermoine Norris
Jo: Kimberley Joseph
Mark: Sean Pertwee
Ramona: Jacey Salles
---
Cold Feetis a comedy-drama from Granada TV which quickly became one of my favourite programmeson the box. It follows the lives of three couples, each at different stages in theirrelationship, in the suburb of Didsbury, Manchester, how they get on within their own lovelives and what happens when social interaction between the sextet goes too far on occasion.
Starting off as being compared to being a British 'Friends', it has a lot morestrings to its bow, which should field off complaints that it's not as funny asit used to be. Well that's the whole point. Life gets less funny as you getolder and responsibilities grow, but the drama in this series becomes itsstrong point, and the only let down in Series 4 was the overall jokey toneof the final episode.
What I found most clever about this fourth series was how the fortunes of eachcouple completely switched around so those who looked to be the strongestfinally began to crumble, while those who were so down before eventually climbedback up.
---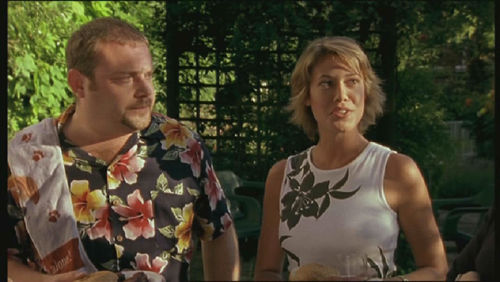 Pete and Jo, Cold Feet's newest couple.
---
Adam (James Nesbitt) and Rachel (Helen Baxendale), now married,desperately want to become parents, but it's not easy for them as adoptionbecomes their only realistic method. Threatening to put a spanner in the worksis the return of Adam's first love from Ireland, Jane, who he finds sat in hiskitchen talking to Rachel. Expect sparks to fly, but not as soon as you think.
Pete (John Thomson and Jenny (Fay Ripley) looked to be gettingback together at the end of Series 3, but a job in America comes calling forthe latter and by the end of episode 2 she is but a memory… (she actually leftto star in various other UK dramas since becoming such a big name). However,there is hope in the form of an Australian girl, Jo (Kimberley Joseph),who starts off as a flatmate for Pete and, by the end of the series, becomeshis wife, making for the most unrealistic moment of the series because itall happens way too fast.
Now a family of five, David (Robert Bathurst) and Karen (Hermoine Norris)begin the series by attempting to patch things up after David's affair frombefore, wheres Karen gets in deeper and deeper with smoothie Mark (SeanPertwee), to the point where neither of them are sure if the marriagecan continue to survive if they resolve this one. To cap it all, Ramona'scompletely had enough of them and they're looking for a new nanny.
One of the best things about having a series like this on DVD is that nocontinuity announcer gets to talk over it.However, while each episode of series 3 contained an individual track overthe closing credits, series 4 bottled it and just went with the sombre thememusic over which the dreadful generic ITV(1) credits would appear.
---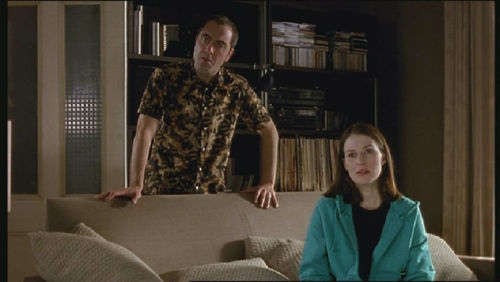 Baby blues for Adam and Rachel, in more ways than one.
---
Like the third series DVD, this series is also presented in 16:9 anamorphicwidescreen as was shown on TV. The quality's still very good, but then it shouldbe given how recent it is.Sadly still, a year on since I asked, and now re-asked, there are still no plansto give the widescreen treatment to the first two series.
As with the first two DVDs, there are no major sound problems. It's in theoriginal Dolby Surround (Dolby Digital 2.0) and is only used for dialogue andgeneral ambience, so doesn't often get a chance to shine.
---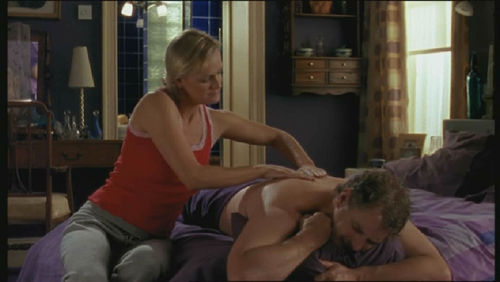 Love on the rocks… ain't no big surprise.
---
The extras are thinner than Pete's get-fit intentions, as the only one isa featurette, Cold Feet Backstage, running for 27 minutes and containingchat from all the cast and crew members (in 4:3 fullscreen) and some clips fromthe series (in non-anamorphic 16:9). It's reasonable to watch once, but notexactly something you'll come back to again.
There are nine chapters per episode, 8 for the main part and one for theend credits – in glorious ITV(1) generic crap-o-vision. How much of an insultis that?!
Now, can someone tell me when Series 5 will finally be broadcast? We usuallyget our Cold Feet fix in the autumn, and last year the episodes wereshown back to back on Sundays and Mondays as they started too late and hadto get them over and done with by Christmas. This year, John Thomson's boozebattle has postponed filming, which probably explains why the seen-it-all-beforeStan the Man has been on in its place.
FILM CONTENT
PICTURE QUALITY
SOUND QUALITY
EXTRAS













OVERALL



Review copyright © Dominic Robinson, 2002.
Reviewer of movies, videogames and music since 1994. Aortic valve operation survivor from the same year. Running DVDfever.co.uk since 2000. Nobel Peace Prize winner 2021.