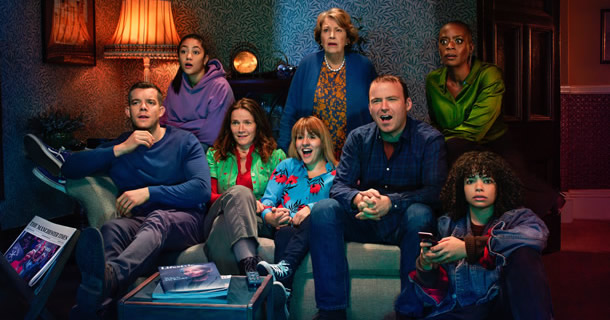 Years And Years is a new drama from Russell T Davies, whose work has had a chequered past with me, in that I really enjoyed some, but didn't like others.
This starts off as a seemingly normal family drama, to the point where I wondered if anything was going to happen at all. I knew the premise was that it's set over a 15-year period, for all members of the extended family, but there's a fixed point in time, in 2019, that's a key moment for all of them. Since it started in 2019, this made me think that the series is about the 15 years leading up to that point, but no, that is the jumping-off point.
In the family, Rosie (Ruth Madeley) has a son, Lincoln, and then while holding his newborn nephew, Daniel (Russell Tovey) doesn't think anything of going off on one of RTD's preachy rants about the state of the world and assuming everything will just get worse and worse over the next 15 years, and we see a flash-forward to how things might turn out, even though it's not much different than how anyone would really expect – people get older, a marriage takes place, politician Viv Rook (Emma Thompson) gets on even more people's nerves than either Katie Hopkins or that hypocrite… oh, what's her name… Emma Thompson, the one who flew first class back to London to moan that mankind flying is a bad thing…
There's interesting uses of technology such as Instagram filters and reference to owning a 'Vision' which sounded like the equivalent of a holodesk, as you can watch cinema films within it. At least such tech doesn't stray beyond the reality of what could happen, so don't tune in expecting flying cars.
However, at least it wasn't far-fetched like when RTD thought he could write episodes of Doctor Who, because almost all of his episodes were terrible (Turn Left being the only exception). I much preferred Queer as Folk, and Bob & Rose, the latter of which was canned after one series. Okay, so QAF only last one series and a special, and could've gone on, but it continued as a US series, lasting four seasons. To date, I've still only seen season 1, but it was actually pretty good.
---
---
In this, I liked the family's equivalent of Alexa, but as a society, have we really lost the capacity to actually TYPE on a phone?! If you're one of those people who walks around with a bluetooth earpiece making phone calls, you look like you've lost your mind, wittering to yourself.
As an aside, there's a moment where everyone's watching Question Time, and a guest says the f-word, and it's heard at home, but the programme is NOT live. It's shown 'as live' but if anyone did swear, it would be bleeped out.
But back to this, and aside from technological advances, RTD beats his drum about immigration, Donald Trump, and a number of other things, I was waiting for something to set this aside from a regular family drama. Prior to broadcast, I can't say what happens or when, but your patience is rewarded.
One thing I can say without spoilers, is that while there was a moment which made me wonder what the outcome would be…. it was only just prior to the end credits beginning, that there's a "Next time…" montage, which completely gives away the suspense, so my advice is that when you're watching and you see the words "Next time…", you have a moment to switch over/mute/look away/etc, as I saw something that really shouldn't have been given away until we actually found out by watching episode 2.
In fact, even post-broadcast, I won't say what I'm referring to, because that's what the iPlayer is for! If you're reading this after it's been on, then get over there to find out.
UPDATE: Now that this episode has been broadcast, and since I watched it on a preview and not live, I'm going to have to check out the episode again on the iPlayer, since I've learned from Twitter that they slipped in some of today's news broadcasts into the episode, including the news about the sad passing of Doris Day!
Years And Years certainly has a well-known cast, with Ms Thompson, Mr Tovey, plus Rory Kinnear, Anne Reid, Jessica Hynes and others, each playing their part. I hope after what I saw, episode 2 can live up to the first.
Years And Years begins tomorrow night on BBC1 at 9pm. It isn't yet available to pre-order on Blu-ray or DVD. If you missed it, you can watch the each episode on the BBC iPlayer for 30 days after transmission.
---
Years And Years Series Trailer – BBC One
---
Episode 1 Score: 7/10
Director: Lisa Mulcahy
Producer: Karen Lewis
Writer: Russell T Davies
Cast:
Vivienne Rook: Emma Thompson
Daniel Lyons: Russell Tovey
Stephen Lyons: Rory Kinnear
Celeste Bisme-Lyons: T'Nia Miller
Rosie Lyons: Ruth Madeley
Muriel Deacon: Anne Reid
Edith Lyons: Jessica Hynes
Ralph Cousins: Dino Fetscher
Ruby Bisme-Lyons: Jade Alleyne
Bethany Bisme-Lyons: Lydia West
Viktor Goraya: Max Baldry
---
Previously on DVDfever:
April 22nd:
Years and Years is a forthcoming Russell T Davis drama (although the billing states an "epic saga") which takes an ordinary family and catapults them through the next 15 years.
As society changes, faster than ever, the Lyons will experience everything we hope for in the future, and everything we fear. They'll fall in and out of love, and grow old, fall apart and come back together, while constantly looking forward.
Each episode propels us a year or two ahead, following the lives of Daniel (Russell Tovey), Stephen (Rory Kinnear) and Celeste (T'Nia Miller), sisters Rosie (Ruth Madeley) and Edith (Jessica Hynes), Gran Muriel (Anne Reid) and the family's children, as they navigate a world made unstable by politics, the economy and technology. But this isn't a dark, fearful show, it's full of wit, warmth, and hope. Years and Years is about family. It shows how we survive, against the backdrop of a political world in which you can't tell right from left any more. The tone is fierce, funny, heart-breaking, and ultimately, determined to survive.
Also, as Vivienne Rook MP, it stars Emma Thompson, who recently flew across the world to join the hippies in London, protesting about how mankind is destroying the planet by flying around the world… unless the plane was powered by her own sense of self-satisfaction.
Based on this trailer, I really like the look of it. It's high time RTD actually made a drama, and didn't attempt sci-fi again, since he made an absolutely cock-up of the whole thing by replacing the sci-fi element in his reboot of Doctor Who with 'running about in corridors' and a stack of LGBT issues. Where's the sci-fi? Not in his Doctor Who.
Queer As Folk was a great drama (including the US version) as was Bob & Rose, and it's a shame they didn't bring that back for a second series, but then he got waylaid with sci-fi. Let's hope that never happens again.
Years And Years starts soon on BBC1, but hasn't yet got a confirmed start date.
Check out the trailer below:

---
Reviewer of movies, videogames and music since 1994. Aortic valve operation survivor from the same year. Running DVDfever.co.uk since 2000. Nobel Peace Prize winner 2021.