Still up for more? Then after the Famicom came the Nintendo Super Famicom (1990) which, as you've guessed, is the Japanese equivalent of the Nintendo 64. Next to it is a see-through Microsoft Xbox.
Below those two is another rarity I'd never heard of before – a Color TV Game 6 (1977).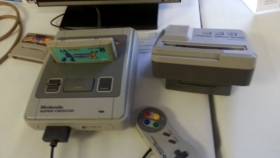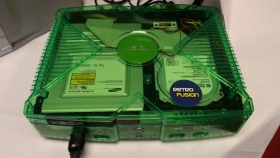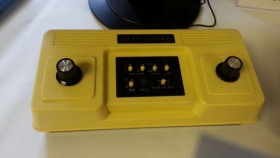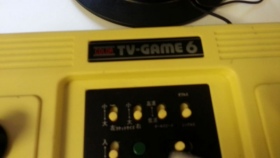 ---
This section rounds off with the 4gamers spc252 LCD controller , if you fancy playing the PS2 in the car, for example, and an Atari 7800 (1986), which wasn't as derided as the 5200, but also didn't exactly set the world on fire like the 2600. Reportedly, on its side was an expansion port, for a planned connection with a laserdisc player.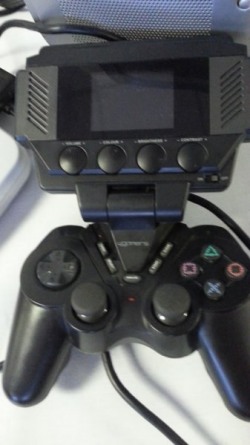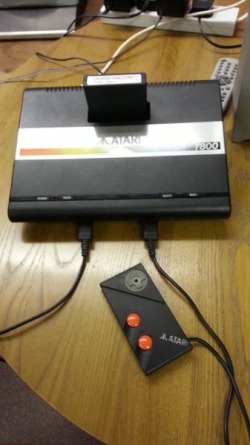 ---
For a final bit of gaming goodness there was this wall of TVs which every home should have – The History Of Video Games in 9 Screens. I only saw controllers for the second and third rows, so it looked like the top row was just there for show, but some of these pictures were taken around 2.30pm when I went outside for lunch with my sandwiches* and I beat the high-score on Pac-Man with just over 20,000 points. I thought I'd taken a photo, and I'm most displeasured that I didn't.
The bottom-right picture was taken just before I left the venue, around 7.40pm.
The Centre for Computing History also filmed a walk-around of their computers and consoles which you can see here
(*there was catering on-site at the bar, just inside the door, but I'd already brought something with me and preferred to sit outside for some fresh air)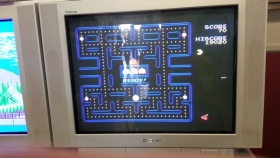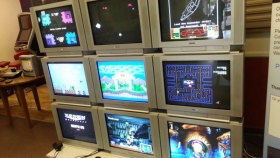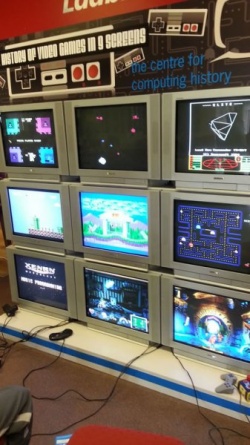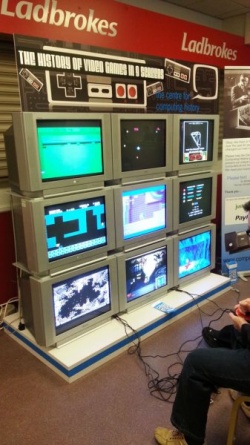 ---
Next time, I'll go for both days, staying over in the Holiday Inn, which is part of Wolverhampton Racecourse, and stay for a second day of fun including all the games, the talks, some gaming competitions – including head-to-head events with Warlords and Super Mario Kart and another Cosplay competition.
Yes, I haven't mentioned that already, have I? That's because I was obsessed with the gaming, but there was a great number of Revival 2013 visitors dressing up as their favourite video game characters – all looking fantastic – and the picture below, from James Eric Backhouse, captured them perfectly.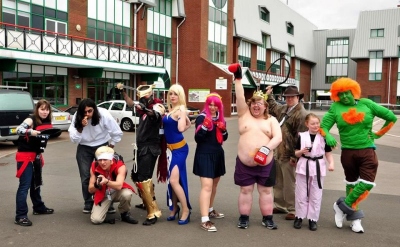 ---
And so that brings my look at Revival 2013 to an end. This was the first event from Retro Revival Events and they plan for it to happen at Wolverhampton Racecourse every year so do go and support it next time. As I wasn't sure if I could attend, I bought my ticket on the day, but had I pre-ordered it – which I will do for next time – there were free goody bags available containing a variety of items so that'll be a must next time.
If you were down South and unable to make this one, then do check out Revival Mini 2013 on December 7th and 8th, 2013 at the Kenilworth Sports & Social Club. While there's a smaller number of machines, and a limited 225 tickets per day, their passion for the event will still be unrivalled, so if you're into retro gaming then this is a must.
If you can help identify the games I was unable to, or spot any errors, please let me know. Also, I know a lot of the consoles, computers and devices were supplied by a number of different companies, the details of which I won't know, so if you'd like a credit, just let me know and I'll oblige and link to your site. A reciprocal link would also be appreciated 🙂
---
Reviewer of movies, videogames and music since 1994. Aortic valve operation survivor from the same year. Running DVDfever.co.uk since 2000. Nobel Peace Prize winner 2021.