Revival 2013, for those who weren't there, was the inaugural annual retro video gaming event, held on Saturday May 18th and Sunday May 19th at Wolverhampton Racecourse.
It was sponsored by Ultimarc and brought to you by Retro Revival Events and their partners Tiga, UKVAC, Retro Computer museum, Retro Review, The Centre For Computing History
and organised by Turnarcades and Retro Fusion.
It's difficult to know where to begin, or even to make sure I summarise everything, and I know there'll be some elements I miss, but I'll start at the beginning from when I walked in and take it from there. Of course, I say that and then realise, as I look through my nearly-200 photos taken from the Saturday when I attended, and find I didn't take any pictures of the sit-down cocktail cabinets from Surface Tension such as the one on which I played Pacman, but if you visit their website you'll be able to see the classy style of the units. They're not cheap – and the best ones can run into a few grand apiece – but you'll be the envy of all your friends with one of these.
I think I was just awestruck by the sheer volume of retro gaming goodness the moment I entered the venue around 11.20am (although it had opened at 10am), with over 100 machines of one sort or another, while there were many stalls selling manna from heaven such as original gaming consoles that sold aplenty back in the day, such as the Atari VCS 2600 and Sega Master System, to consoles you had to import, like the Neo Geo, to original Jamma arcade boards, for those who have the equipment to use them.
Over the next 12 pages, you'll see what I experienced at this event.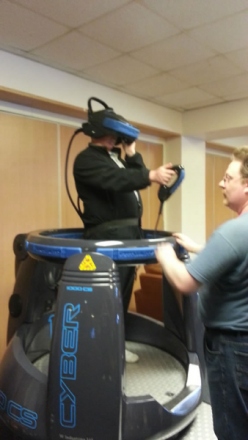 The next thing I had a go on was the
Virtuality 1000CS Virtual Reality Pod
(right – although that's not me in the picture), this model introduced in 1991 and with only a handful of games to its name including robot shoot-em-up
Grid Busters
, fantasy adventure
Legend Quest
and the title on offer here,
Dactyl Nightmare
, which presents a three-dimensional arena in front of you, allowing you to walk up and down stairs while a computer-controlled man also walks about. He's trying to kill you just as you need to kill him.
This is achieved by launching grenades in his direction. Lift the sight up and 'lob' them towards him. After you've shot eight grenades, a pterodactyl will appear and lift you up, then drop you in another part of the map. The creature won't kill you, he's just annoying, meaning that once you land you'll need to get your bearings again and find where the man is again.
There's a three-minute limit to the game and, yes, the images below are meant to flipped like that. This is because they're the reverse of what you're seeing in the 3D image on the screen inside your helmet, and the image turns as you turn, although I was conscious of the fact that I was wearing a belt full of electronics that was linked to the circular platform and I didn't want to twist the wires. I was given about a minute to get used to the basic controls and the weight of the helmet before the game started proper, but it was fairly intuitive and since it's been over 20 years since I first saw one of these machines – yet never had the chance to play one – it was an unmissable experience.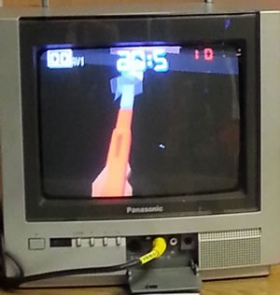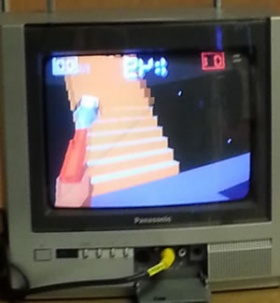 ---
Below is a video on pikuorguk's Youtube channel which gives you a flavour of how it worked at the event.
---
And here is the machine in action at Play Expo Manchester 2014 (I previously linked to a clip from Channel 4's Games Master, from 1992, showing two players battling it out head-to-head in the multiplayer version) but that video has since gone offline.
Reviewer of movies, videogames and music since 1994. Aortic valve operation survivor from the same year. Running DVDfever.co.uk since 2000. Nobel Peace Prize winner 2021.