Revival 2013, for those who weren't there, was the inaugural annual retro video gaming event, held on Saturday May 18th and Sunday May 19th at Wolverhampton Racecourse.
It was sponsored by Ultimarc and brought to you by Retro Revival Events and their partners Tiga, UKVAC, Retro Computer museum, Retro Review, The Centre For Computing History
and organised by Turnarcades and Retro Fusion.
It's difficult to know where to begin, or even to make sure I summarise everything, and I know there'll be some elements I miss, but I'll start at the beginning from when I walked in and take it from there. Of course, I say that and then realise, as I look through my nearly-200 photos taken from the Saturday when I attended, and find I didn't take any pictures of the sit-down cocktail cabinets from Surface Tension such as the one on which I played Pacman, but if you visit their website you'll be able to see the classy style of the units. They're not cheap – and the best ones can run into a few grand apiece – but you'll be the envy of all your friends with one of these.
I think I was just awestruck by the sheer volume of retro gaming goodness the moment I entered the venue around 11.20am (although it had opened at 10am), with over 100 machines of one sort or another, while there were many stalls selling manna from heaven such as original gaming consoles that sold aplenty back in the day, such as the Atari VCS 2600 and Sega Master System, to consoles you had to import, like the Neo Geo, to original Jamma arcade boards, for those who have the equipment to use them.
Over the next 12 pages, you'll see what I experienced at this event.
Virtuality 1000CS Virtual Reality Pod
(right – although that's not me in the picture), this model introduced in 1991 and with only a handful of games to its name including robot shoot-em-up
Grid Busters
, fantasy adventure
Legend Quest
and the title on offer here,
Dactyl Nightmare
, which presents a three-dimensional arena in front of you, allowing you to walk up and down stairs while a computer-controlled man also walks about. He's trying to kill you just as you need to kill him.
This is achieved by launching grenades in his direction. Lift the sight up and 'lob' them towards him. After you've shot eight grenades, a pterodactyl will appear and lift you up, then drop you in another part of the map. The creature won't kill you, he's just annoying, meaning that once you land you'll need to get your bearings again and find where the man is again.
There's a three-minute limit to the game and, yes, the images below are meant to flipped like that. This is because they're the reverse of what you're seeing in the 3D image on the screen inside your helmet, and the image turns as you turn, although I was conscious of the fact that I was wearing a belt full of electronics that was linked to the circular platform and I didn't want to twist the wires. I was given about a minute to get used to the basic controls and the weight of the helmet before the game started proper, but it was fairly intuitive and since it's been over 20 years since I first saw one of these machines – yet never had the chance to play one – it was an unmissable experience.
---
Below is a video on pikuorguk's Youtube channel which gives you a flavour of how it worked at the event.
---
And here is the machine in action at Play Expo Manchester 2014 (I previously linked to a clip from Channel 4's Games Master, from 1992, showing two players battling it out head-to-head in the multiplayer version) but that video has since gone offline.
---
Halo 2600
, for example, and now we have Welcome
CGE Adventures: Las Vegas
, a game I only played briefly – but at an event like Revival 2013, you had to do this just to be able to try and get round all the machines in one day – and one where I enjoyed working through what is effectively a maze as I went through the Hotel Entrance and then onto the Vendor floor.
Adventure
,
this video will give you a flavour of what the game is like
.
---
One of my favourite things in life if my Turnarcades MAME Arcade machine, and Turnarcades were present with a number of machines, but the first thing that caught my eye was this clear control panel:
---
And they also had the glorious Vectrex, one of the many machines I'd never played before. I played both Minestorm (better known in other circles as Asteroids) and Scramble.
---
And on the other side of their stand, they also had this gorgeous beast, with built-in projector. I want one!!
---
---
After that, and courtesy of
Video Game Carnival
, you could indulge in 8-bit pixel art (I only didn't because I got an E for GCSE Art) and laser gaming,
which can be better seen on this video
.
---
They also had two giant Gameboys (which my phone's camera did zero justice to, as they had a great image) and the wonderful Fruitcade, which does exactly what it says on the ti… er… banana. Yep, control your arcade games with a banana, an apple and a few bananas.
---
Fancy a bit of 3D action, missus? I'd not played these Tomy Tronic 3D handhelds before, and while the 3D is understandably a bit rudimentary compared to modern gaming – because they have a similar style to Game & Watch handhelds – they were great fun if you bear their era in mind.
---
And in the LED Arcade, there's the Invader 1000, a basketball game the name of which escapes me, and below, two more games I don't know the name of, the second of which is an American football game. Someone please fill me in on these.
---
Want more handheld action? These are some gaming units of fun which I remember from my childhood: Astro Wars, Frogger, Amidar (appalling photo of mine!) and Scramble. I can't remember if they also had Munchman on view as I haven't got a picture of it, but click on its name in the sentence for a video. I certainly remember owning one back in the day!
---
---
Next up was some retro goodness in a slew of computers and consoles, some of which I hadn't played before, and some of which I hadn't even HEARD OF before. This was enlightening!
Before I get to the machines, I noticed these beauties. I got the impression these weren't items for sale, but just a classic set of Ocean games in a cabinet which all hold many memories, some individually and some in collections: Barbarian, Renegade, Rampage, Yie Ar Kung Fu and one of the most bizarre and incredible games you'll ever play – Frankie Goes To Hollywood, whose ideas were as out-there as the band themselves.
---
I also saw one stand selling the heart of any original arcade machine back in the day, JAMMA boards! On the left, a selection of prices, and then on the right, Street Fighter II for a mere £30!
---
They also sold Neo Geo cartridges. Before this day I never got to play on a Neo Geo game, but when these were first released, from what I learned the games were all arcade-perfect but the individual titles could cost anything up to around £160! A bit beyond my budget, sadly.
---
Then it was welcome to the machines, and first up was a ZX Spectrum (1982), one of my all-time favourites, with this one being the first I saw with an ingenious RAM pack extension, of sorts. Unfortunately, I can't remember which game I played and the screenshot doesn't help much, either. If anyone knows, please tell me and I'll update this.
---
Next up, another old favourite, the BBC Model B (1981), here with a trackball, a teletext adaptor and a number of disks with lots of games available to play – like most, if not all, of the units on display, although I generally just stuck to the game playing at the time on each one. Marble Madness was the game here, but I wasn't very good at it. Guess I needed more practice 😉
---
And then another machine, this one playing Super Cobra from 1981. Again, I wish I could remember the name of the unit.
---
The next computers were an Enterprise 128 (1985) and a Commodore Plus/4 (1984), both of which I hadn't played first-hand before.
---
Then a PC Engine Super CD-ROM system (1987) and Whitechapel Computer Works MG1 (1984), the latter playing Defender.
---
Next up, the old faithful, a Super Nintendo (released between 1990 and 1992, depending on the country), playing Super Mario Kart and a Toshiba MSX HX-10 (1984). Oh, and if you look below that, you'll see I had the high score on Space Trouble at not long after midday 😉
---
---
---
Next up, is Boulder Dash on the Commodore 64 and, below, Pacman on the Nintendo Gamecube.
---
A Sony Playstation (1994) with the coolest joystick unit ever made for it, the Amiga A1200 (1992) and the classic Binatone games console (1974).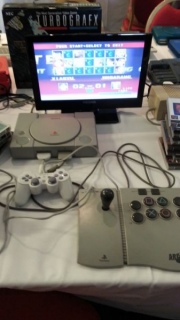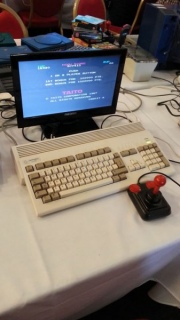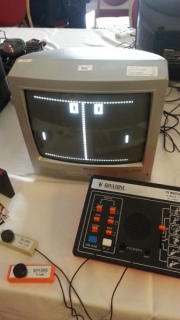 ---
The original and wonderful 6-switch Atari 2600 (1977) woody playing Donkey Kong (below) and Adventure (below-left), and a Sega computer system (below-right), the exact specifics of the latter escaping me, but it was playing Hyper Sports.
---
Then eight slices of retro computing goodness in a number of machines, some of which I hadn't even heard of before – but most of which weren't hooked up, starting with a Timex Computer 2048 (1984) and a Timex Sinclair 2068 (1983) on the top line. Below that, a Dragon 200 (1984) and a Jupiter Ace 4000 (1983).
Then take delight in an Oric 1 (1983) and a Commodore 116 (1984) – yes, not a Commodore 16, but a '116', a cost-reduced alternative which was only sold in Europe. The octuplet is rounded off with a trio of coloured Sony Playstation consoles and an Atari 520ST (1985), the machine I had back in 1987.
---
And two more from this section, a classic Sinclair ZX80 (1980) and an Amiga CD32 console, which wasn't working here and after being released in September 1993, was discontinued only months later in April 1994.
---
---
Before the next set of computers, here's a few handhelds which were on the table inbetween: On the top pic, there's Scramble and Astro Wars, as seen earlier, plus Caveman. Below, Astro Wars is joined by a Sega Game Gear!
---
And here we have a lovely little selection of handhelds on the left, with a Quickshot Supervision on the right, which I hadn't seen before, but came out in the 1990s and was a UK version of an Asian console designed to compete with the Nintendo Game Boy.
---
Amstrad CPC 6128plus
(1990) (right), that and the 464 equivalent intending to replace the CPC-labelled predecessors.
Around the same time, Amstrad also ventured into the console market with the GX4000. You can see, from that link, that they share the same controllers. I hadn't seen the computer before so, like the console, I can only assume its life, too, was short-lived.
The game on display here, is Burnin' Rubber.
---
Next up, a very rare find: something I'd only heard about before but never seen in the flesh, so to speak – a Nintendo Virtual Boy, another short-lived unit, but one which plays very effective 3D graphics and I played Mario's Tennis.
---
R-Type
on a blurry-looking
Amstrad CPC6128
.
---
Moon Cresta
on a
Dragon 64
, the more powerful version of the Dragon 32, which a friend of mine used to own, back in the day.
I so loved going round his house to play Ultimate Adventure 4!
Get a load of that wacky joystick too! 🙂
---
The EACA EG2000 Colour Genie (1982) was a curiosity as it was another machine I'd never comes across in person, and was something I'd only read about. I don't know the name of the game I was playing, but it had a similar style to Manic Miner.
---
---
Then two more computers from the same area, and two I had had first-hand experience of back in the day: The
Commodore Vic-20
(1980), playing
Centipede
here, and a
ZX Spectrum +3 128K
(1987), playing
Chase HQ
, a great game in the arcades and also enjoyable on home computers, despite the limited colours.
---
Would you believe I'd never played Goldeneye on the Nintendo 64 (1996) prior to Revival 2013? That is a fact, but I was happy to lose my 007 virginity here. Meanwhile, Dragon's Lair is one of my all-time favourite games, and I'd never clapped eyes on the Panasonic 3DO (1993) back in the day, but while I got to see it, the machine wasn't working for some reason. The image was playing up and the console just wasn't playable. Absolutely no idea what happened here. Looking back, I probably should've tried to unplug/re-plug it in, but I had a feeling I might unplug something else inadvertently, so just left it.
---
Four more consoles and computers from yesteryear: The original Xbox (2001), playing Outrun; next to a Nintendo Entertainment System (1985), playing a game, the name of which I've forgotten. And in these cases, the pictures on the screens were fine, but my phone's camera didn't get on with them for some reason.
Then a Texas Instruments TI-99/4A (1981) playing Scramble, an Atari 400 (1979) computer playing Pac-Man, and a Playstation 2 (2000) (out of shot) playing Gran Turismo with a steering wheel… and after playing it with that, I actually prefer using a joypad because it just feels more normal for playing at home.
---
---
Next up, an Acorn Electron (1983) playing the wonderful Chuckie Egg, and, another classic Sinclair machine with RAM pack-types oozing out the back of it, a ZX81 (1981) running several games from a menu, including Manic Miner. Yes, Manic Miner on a ZX81! Fantastic!!
---
And, adding to the list of machines I hadn't seen in the flesh before, a Tatung Einstein (1984), shown here playing miner Willy's second adventure, Jet Set Willy.
---
Then a Sega Megadrive (1988) with Mega CD (1991) and 32X (1994), playing a game I can't remember the name of, and then the Philips CD-I (1991), the attempt to make Video CD the way to watch films in the home, playing interactive title Mad Dog McCree, although even after attempting to calibrate it, it still didn't work properly and the gun's sight wobbled all round the screen like it was sat on a jelly.
When the latter was first launched, a salesman once told me, "Anyone thinking of buying a VCR to watch films on, these days, should seriously think of investing in one of these." I tried to stifle my giggles as I left the shop, since the pixelation on the MPEG-I format was so bad it was like watching Freeview in a rainstorm.
---
---
---
Next up, the
Atari 800XL
(1983) playing the bizarre
Typo Attack
(there were other cartridges available to play, but this one was a curiosity and I wanted to get round more machines.
---
Naturally, I couldn't pass up a game of Soul Calibur on the Sega Dreamcast (1998) – an amazing console so cut down well before its time, which also came complete with a full joystick unit, a joypad with VMU (Visual Memory Unit) (which featured animated characters with this particular game) and a keyboard (which wasn't required for this game).
---
Getting close to the end of the far bank of retro consoles and computers, I saw another Commodore Plus/4, this one playing Space Warrior, a Sega Master System (1985) playing Psycho Fox, although other games were available, and the short-lived Sinclair QL (1984), shown playing Scramble.
---
---
And to complete the lot, a bizarre-looking item, the Philips Videopac G7000 (aka Magnavox Odyssey²), shown here with two different games, the second of which I remember was called Monkey Shines (bottom-right).
---
---
---
Star Wars
(1983), a king amongst games where you can enjoy blowing the Death Star to extinction, as shown in the final act of
Star Wars Episode IV: A New Hope
.
At Revival 2013, I played the stand-up version, but if you can find the sit-down equivalent, all of your five senses will thank you for it.
Check out the game in the flesh here.
---
Then, I enjoyed another of my favourites, Phoenix (1980), shown by the first two pictures below, as well as a blast on the original Scramble (1981), albeit with not a great picture for that one.
---
Do you enjoy playing with a tantalising ring? I went back to console-time to enjoy some multiplayer action with 16-player multiplayer for Halo 2 (2004), which ran games lasting ten minutes at a time on Videogame Carnival's The Ring.
---
Major kudos to whoever brought us this gem. From the movie Wreck-It Ralph (2012), someone coded and built this masterpiece – a cabinet based around, and which plays the game Fix-It Felix, Jr as shown in the game. It's a very difficult game to play, so I never got to find out if there's more than one level, but it was such a treat to sample its wares.
---
Two more arcade treats, Street Fighter (1987) and one of two Candy Cabs arcade units. I had no idea what the game was called, although it featured lots of explosions (which probably doesn't help). Finally, as an aside, a picture of one of scores of games for sale, Super Skidmarks (1995) on the Amiga. Who doesn't still spot Super Skidmarks on a regular basis? Stop lauging at the back…
---
Then I moved on from skidmarks to playing with my balls… pinballs to be precise. I'm no pinball wizard, but I do like to pull my plunger and twang it back and forth of an afternoon, and there were four lovely-looking machines on display. The first two are pictures from The Shadow, which started life as a number of serialised dramas in 1930s pulp novels before later being made in a number of films, the most famous of them, albeit not brilliant, being the 1994 movie starring Alec Baldwin, hence why his face is on it.
Below it are the other three: Bram Stoker's Dracula, Street Fighter II and No Fear.
---
---
Although there were massively more arcade machines of fun at Revival 2013, I didn't take pictures of too many of them because I wanted to play them more. So one of the last to be enjoyed was NBA Jam, a four-player game, and while I was only one man, by luck there was a family of three who were a player short. Not far was a working Amiga CD32 (another bad picture of mine, alas) and a Commodore 64, whose innards had been replaced by a PC because they never had graphics like that in my day 😉
---
---
But everything comes to an end at some point, and despite the event due to close at 6pm on the Saturday, although a lot of the home computers and consoles went off shortly afterwards, the arcade machines stayed on until close to 7pm. We'd had ample warning, but still tried to get as much time out of it as possible.
Below, you can see the Sega Multi-Mega, a Puckman machine and… well, it's time for them to pack up.
---
Unfortunately, I didn't get to see any of the talks or much of what was going on in the first room, as I was in the arcade area for the majority of the day – so that means all the more reason to go for both the Saturday and Sunday next year – but as I emerged from the arcade room, I passed many more computers and consoles, some of which I'd sampled already where I'd spent the day, and some which I hadn't.
Naturally, a lot of these had been switched off by then (and if they hadn't, then I doubt I would've left at all), but I had a go on those which were still up and running.
In the pictures below, there's Spiderman on a 4-switcher Atari 2600 – a game which I played many, many times, Doom 4-player LAN DOS gaming – something I wish I'd had a go at, but then I never was any good at multiplayer anyway, an Atari Jaguar (1993) playing Dragon: The Bruce Lee Story, a Mattel Intellivision (1979) which was clearly playing TRON: Maze-a-tron at some point earlier in the day, a ZX Spectrum, laden with extended memory, playing Cybernoid and a BBC Model B playing a game which, yes – you've guessed it, the name of which has escaped me.
---
When I was at Keele University, I remember enjoying a game of Midi Maze on the Atari ST. These computers were all right next to each other, but at Uni, a mate and I were on separate floors of our block so it required a very long cable to connect between the two. There was no such thing as Wifi twenty years ago!
---
From this point, the majority of the machines featured come from The Centre for Computing History – along with the Spectrum and BBC just above. In the pictures below, they begin with a machine I'd never even head of before, an Apple Bandai Pippin (1995), their short-lived attempt at a multimedia technology console, which in 2006, was placed 22nd in PC World Magazine's list of the "25 Worst Tech Products of all Time.", while Atari had better fortunes with their Pong home console, which were first released in 1975 but I don't know when this particular version was released.
Then there's another Sega Master System, this time playing Missile Defense 3D , which was a curious title and, while wearing the glasses, did work rather well, although it wasn't as effective as the Virtual Boy (see the bottom pic, although that's not me in it). Next to it is an Action Max (1987), another machine I'd never even heard of, and one which used VHS tapes for games! It required its owner to also have a VCR, as the console did not have a way to play tapes itself. Similarly, another one next to me, on its right, is an Ending-Man BS-500 AS Terminator (1992), released in a number of European countries but not ours.
I wish I'd taken a better picture here, as I can't even decipher what the black console with the blue buttons is.
---
The next quartet begins with the Magnavox Odyssey 300 (1976), then an Aura Interactor which you strap onto your back and is meant to enhance the games. It was hooked up to the Sega Mega Drive, shown below it, which had a Mega CD attached to it, but I was playing T2: The Arcade Game without it on, because with so many wires all over the place, I didn't want to accidentally make something fall off the shelves.
---
---
The remaining computers and consoles were not on, but I was still snap-happy. The first two pictures are of the Commodore CDTV (1991), which didn't stand for what you'd expect, but instead was the doesn't-trip-off-your-tongue, "Commodore Dynamic Total Vision". It comprised of an Amiga 500 in an over-sized CD player case, containing a single-speed CD-ROM drive. Targeted at the same marketed as the ill-fated Philips CD-i, it was marketed as an all-in-one home multimedia device… a bit like the Microsoft Xbox One? Hmm…
Then there's a TurboGrafx-16 (1987) (aka a PC Engine) and an Atari 5200 (1982) – complete with trackball, which was a failure after the success of the 2600. You can't blame them for trying a follow-up, but the 5200 had poor non-centring joysticks and the 2600 was just too dominant.
---
There's another Atari Jaguar, this time with a Logic 3 controller, an Atari Falcon 030 (1992), Atari's final computer product before moving back into consoles with the aforementioned Jaguar, and a computer which just didn't compute for their fortunes.
And then, a rare oddity which I'd never even comprehended before – an Amstrad Mega PC (1993), an Amstrad computer with built-in Sega Megadrive!
---
Of the next four consoles, I'd only seen the first one before, and even owned one: The CBS Colecovision (1982) was a rival to the Atari 2600, and the console which I really wanted to own, but since I was only ten and not in full-time employment I couldn't afford one. Later on, in 2001, I bought one from Ebay with a ColecoVision Atari Convertor (aka Expansion Module #1) and some games, but stored it in the cellar while having some work done on my house, during which there was a flash flood and it was ruined.
The other three are a Commodore 64 Games System (1990), a lot of the games being ports of C64 titles, while Terminator 2: Judgment Day was designed for the console, but was included on a cartridge that required the user to press a key to access the game, meaning it was unplayable – Whoops!; a Sega SG-1000 (1983) and a Sega SG-1000 II (1984), an updated version of the console, released the following year.
---
Then we have a Nintendo Family Computer, aka the Famicom (1983), which always looked cool but I never owned one; and a console which doesn't look at all cool, but I'd have loved to have had a go on it, the original Magnavox Odyssey (1972), aka Odyssey 100.
---
---
Still up for more? Then after the Famicom came the
Nintendo Super Famicom
(1990) which, as you've guessed, is the Japanese equivalent of the Nintendo 64. Next to it is a see-through
Microsoft Xbox
.
Below those two is another rarity I'd never heard of before – a Color TV Game 6 (1977).
---
This section rounds off with the 4gamers spc252 LCD controller , if you fancy playing the PS2 in the car, for example, and an Atari 7800 (1986), which wasn't as derided as the 5200, but also didn't exactly set the world on fire like the 2600. Reportedly, on its side was an expansion port, for a planned connection with a laserdisc player.
---
For a final bit of gaming goodness there was this wall of TVs which every home should have – The History Of Video Games in 9 Screens. I only saw controllers for the second and third rows, so it looked like the top row was just there for show, but some of these pictures were taken around 2.30pm when I went outside for lunch with my sandwiches* and I beat the high-score on Pac-Man with just over 20,000 points. I thought I'd taken a photo, and I'm most displeasured that I didn't.
The bottom-right picture was taken just before I left the venue, around 7.40pm.
The Centre for Computing History also filmed a walk-around of their computers and consoles which you can see here
(*there was catering on-site at the bar, just inside the door, but I'd already brought something with me and preferred to sit outside for some fresh air)
---
Next time, I'll go for both days, staying over in the Holiday Inn, which is part of Wolverhampton Racecourse, and stay for a second day of fun including all the games, the talks, some gaming competitions – including head-to-head events with Warlords and Super Mario Kart and another Cosplay competition.
Yes, I haven't mentioned that already, have I? That's because I was obsessed with the gaming, but there was a great number of Revival 2013 visitors dressing up as their favourite video game characters – all looking fantastic – and the picture below, from James Eric Backhouse, captured them perfectly.
---
And so that brings my look at Revival 2013 to an end. This was the first event from Retro Revival Events and they plan for it to happen at Wolverhampton Racecourse every year so do go and support it next time. As I wasn't sure if I could attend, I bought my ticket on the day, but had I pre-ordered it – which I will do for next time – there were free goody bags available containing a variety of items so that'll be a must next time.
If you were down South and unable to make this one, then do check out Revival Mini 2013 on December 7th and 8th, 2013 at the Kenilworth Sports & Social Club. While there's a smaller number of machines, and a limited 225 tickets per day, their passion for the event will still be unrivalled, so if you're into retro gaming then this is a must.
If you can help identify the games I was unable to, or spot any errors, please let me know. Also, I know a lot of the consoles, computers and devices were supplied by a number of different companies, the details of which I won't know, so if you'd like a credit, just let me know and I'll oblige and link to your site. A reciprocal link would also be appreciated 🙂
---